This evening's Fitness Club is brought to you by the lovely Cassidy, who very kindly sent me his beginner's fitness primer. I'll let him tell you himself.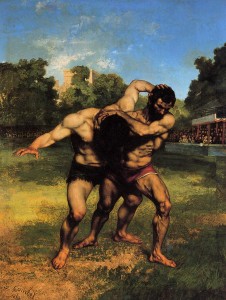 Diet and Exercise can be intimidating. There is a ton of information out their to sift through, a lot of "bro-science", late night infomercials inundating us with messages of what's wrong with us…

After a while the cacophony gets way too loud and it's easier to just do nothing. So, let's get past that bullshit.

Welcome to the Balloon Juice Fitness Club. Let's start with a basic premise: there is nothing wrong with you. You may be overweight or not very fit. That's okay. It does not mean you are an immoral person who is only worthy of derision and ridicule. The BJ Fitness Club is a place for the BJ community to support one another in their endeavors to live a healthier lifestyle. If you don't want to, that's fine. If you're a beginner, this is a place for you to learn and ask questions without judgment or intimidation. If you're more advanced, please feel free to help and offer advice and we can all learn something new.

There are a lot of workout systems and routines out there and even more diet and eating lifestyles, so let's start with the basics. A fit lifestyle has two components: good nutrition and exercise.

NUTRITION: There are a lot of good diets and eating lifestyles out there, but you need to start simple. Drastic changes will equal failure. The key, as a beginner, is to educate yourself on portions, what's in your food, and how to plan your daily consumption. I don't diet. I eat what I want. The key is moderation. You have to learn what a real serving looks like. Start with small changes: fat free creamer, small snacks, drinking more water, etc. Don't go crazy and don't deny the food you like; just eat them in moderate portions. When you look at your plate, strive to have one half veggies, and the other split between meat and starch. I tend to go with more meat than starch. Make your meals a little smaller and start snacking in between, but make it good snacking. Your goal should be to where you are eating 5-6 small amounts of food, with your 3 main meals being just enough to fill you up, but not make you full. Take your time. You didn't gain weight overnight and it won't disappear overnight. Again, don't get drastic. You have the rest of your life to adopt a new eating lifestyle so lay the foundation now for moderation and controlling your hunger.

Small changes, small victories.

And water. Start drinking copious amounts of water. You should be consuming half your body weight in ounces, at a minimum, daily.

EXERCISE: Just like eating, there is an overabundance of workout systems and routines. Over time, we can talk about each one and break it down. But there are two key things that they all must have that only you can provide: fun and a goal. You have to enjoy what you're doing. Take the time to find what is right for you. You don't have to start working out hard today. Go visit a gym. Lift some weights. Walk on a treadmill or get on a elliptical. Walk the dogs. It doesn't matter. Find something you enjoy that is physical. As you get into better shape, you'll start to get curious about other ways of working out, especially as you see results and want something more challenging. If you're workout time is coming up and you are dreading it and it makes you miserable, you are doing it wrong. The hardest part of working out is staying motivated.

You have to have a goal. Let's be clear about this in no uncertain terms: LOSING WEIGHT IS NOT A GOAL! Picking an arbitrary number that you think you'll look better at is useless. You may not lose weight, especially if you're doing any kind of resistance training and putting on muscle. You will lose body fat and that will change your shape, but even that's not a goal. That's going to happen. You're goal should be something tangible that you can strive for: running a marathon or half marathon, getting into a size 6, doing 20 dead hang pull-ups nonstop (my goal). The weight and your appearance will change as you exercise, so let it happen naturally and don't focus on it. Focus on your resting heart rate, your cholesterol levels, cardiovascular health, and body composition. Weight will be what it is going to be.

This is my advice to beginners.
Have at it then, my dears. I hope to see you again next Sunday at the same time. If anyone would like to send me fitness tips or advice or questions which you would like the Juicetariat to discuss, please feel free to do so here.
[Image: The Wrestlers – Gustave Courbet (1819-1877)]