I went to a Meet The Candidates event near here night before last: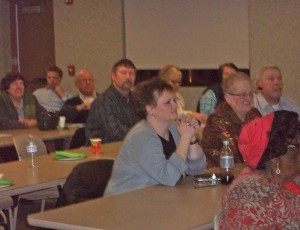 Angela Zimmann was there. She's running against Bob Latta for the US House.
John Vanover was there, I've mentioned him frequently here before, he's the brave person who stepped up to run against an entrenched, well-funded culture warrior Republican for a seat in the Ohio legislature. He doesn't have an online donations page set up yet, but we're working on it.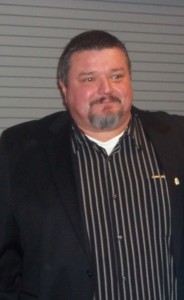 The event was mostly Q and A, and it was a good discussion. The attendees asked about Kasich's plans to sell the turnpike, Lake Erie environmental protections, and school funding. No one asked about birth control, or whether or not President Obama is "really" a Christian, and the college student who was barred from testifying in the GOP House on contraception wasn't even mentioned, let alone demeaned and insulted.
Yesterday, Angela and some others held a press conference in Toledo to go after Romney on the auto industry rescue that he opposed. It's a nice hook for Angela, because her opponent Bob Latta opposed the rescue too:
Today, Ohio Democratic Party Chairman Chris Redfern, State Representative Michael Ashford, 5th District Congressional candidate Angela Zimmann and Lucas County Democratic Party Chairman Ron Rothenbuhler stood in front of a podium sign reading, "Romney: Let Jeep Die" and held a press conference in Toledo to highlight Republican presidential candidate Mitt Romney's out-of-touch record when it comes to manufacturing and the auto industry. The event followed Mitt Romney's appearance at American Posts LLC in Toledo.
The Ohio Democrats opened the event by pointing to comments made by Romney earlier in the day in which he said, "I gotta push a button. That'll be my heavy-lift in terms of manufacturing."
State Representative Mike Ashford of Toledo talked about the autoworkers he represents and the autoworkers across America. "Since President Obama stood up for the auto industry, more than 1.4 million jobs have been saved, 200,000 created and more than 150,000 expected in the next few years. And Chrysler will soon invest $500 million in the Jeep plant, right here in my district."
Ashford invited Mitt Romney to visit the Jeep plant and meet his constituents to hear how the auto industry has been helped through the rescue efforts that he opposed. 5th District Congressional Candidate Angela Zimmann slammed her Republican opponent, Congressman Bob Latta, for voting against the auto rescue.
"This region of Ohio runs on cars," Zimmann said. "The auto industry runs in our blood. But if Bob Latta had his way, our auto industry would not exist as it does today. It's a real slap in the face that he thinks we won't remember how he voted against our autoworkers."
The truth is, all Republicans opposed the auto rescue because the lock-step conventional wisdom of the people who manufacture nothing more tangible and real than opinion pieces was that the auto industry rescue would fail. They bet against that industry recovering. They all did. The auto industry collapse was real, and the rescue is real. Millions of jobs and a whole region of the US were hanging in the balance. Republicans don't want to talk about it, and they may be able to dodge talking about it on the national stage, but they aren't going to be able to escape it here:
Mr. Romney didn't mention his opposition to the federal government's bailout of the auto industry, an issue that plagued him in Michigan, where he defeated former U.S. Sen. Rick Santorum on Tuesday. But if Mr. Romney hoped to put the issue behind him after the primary race in Michigan, he's likely to be disappointed — especially in northwest Ohio, where the local economy is tightly tied to Detroit's. The North Toledo company Mr. Romney wanted to highlight as a beneficiary of his policies is a prime example. Universal Metals would be much different today without the bailout of the auto industry.
Romney visited NW Ohio to "tout his business credentials", but here's what Mitt Romney's business credentials led him to believe about the auto rescue:
If General Motors, Ford and Chrysler get the bailout that their chief executives asked for yesterday, you can kiss the American automotive industry goodbye. It won't go overnight, but its demise will be virtually guaranteed.
Millions of people were watching and waiting to see whether they would be employed the following week, whether their pensions were going to disappear, and Mitt Romney took to the editorial pages to tell them their economic demise was "virtually guaranteed". Why did he do that? Because he was absolutely confident doing so would benefit Mitt Romney politically, in 2012.