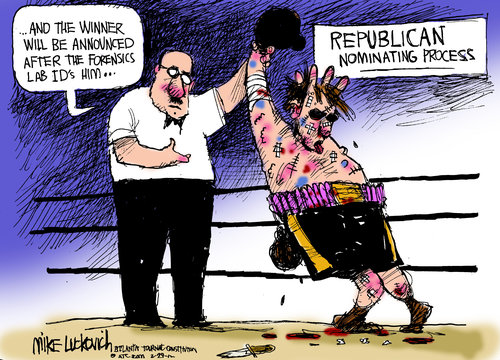 (Mike Luckovich via GoComic.com)
Via Ed Kilgore at the Washington Monthly, we are not quite done yet with GOP "debates":
Mr. Huckabee will host his third presidential forum on Saturday, an executive for the Fox News Channel said on Tuesday. So far three candidates, Newt Gingrich, Mitt Romney and Rick Santorum, have committed. Ron Paul has still not indicated whether he will attend.
__
The program, which is scheduled from 8 to 10 p.m., will be broadcast from Ohio, the executive said, speaking anonymously because a formal announcement had not been made.
__
Mr. Huckabee will focus the forum on jobs and the economy, a particularly potent subject in Ohio where the manufacturing sector has suffered greatly. Underscoring that distress, the setting for the event will be a now-shuttered DHL plant in Wilmington…
__
During the program, Mr. Huckabee will be joined by Charlie Gasparino, a senior correspondent for Fox Business Network, and Elaine Chao, a labor secretary to George W. Bush and now a Fox News contributor, and three Ohio residents whose lives have been affected by the recession…
Huckabee, Gasparino and Mrs. Mitch McConnell! I hope those unfortunate "Ohio residents" have their affairs in order, because if a just Judeo-Christian god is ever going to smite those among His followers who have profaned His honor, this event would seem a good place to start.