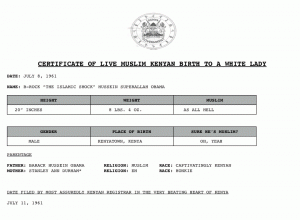 When this shit started several years ago, it drove me insane. Nowadays, I love it, because it really helps to expose the crazies:
There is an argument that it's best to ignore crazy people. You have nothing to gain by reasoning with the guy on the subway shouting about the end of the world. But what if the crazy guy's a prominent law enforcer, and what if he's shouting about the president of the United States?

Sheriff Joe Arpaio, the self-appointed terrorizer of the Hispanic population of Maricopa County, Arizona, who is currently under federal investigation for discriminating against Latinos, held a press conference today that might stir up the ridiculous "birther" movement.

The sheriff released a 10-page document challenging the authenticity of the long-form birth certificate that Mr. Obama released last year. He claims it's a "computer-generated forgery." Based on news accounts, the report consists of previously aired and well-refuted claims about the typography on the document.
At this point, only the most addle-minded lunatics think there is a chance Obama is not American.
The other thing I am kind of curious about is what do they think will happen should the country decide they are right? The last three years have happened. You can't get them back. Do they think every bill will just be undone? Who would be President? McCain or Biden? It's just so much fail in one place I'm surprised it doesn't create a black hole.