I went to an HHS event last night on Obamacare and small business. Just to clarify, the federal regulation of large businesses is the actual issue behind the screaming about sluts, but this was on Obamacare and small business, so perhaps we'll be listening to conservatives and media screaming about sluts who own small businesses rather than sluts who work for large businesses in a month or two and we'll be better prepared this time.
To set this up, the man in the photo below is Kenneth Munson, the regional HHS director who presented the program and who is (possibly) the most patient and endlessly polite person in America: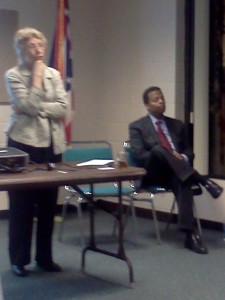 Does he look tired? Yes, but it was the end of the presentation, and you would too, if you had his job.
I met my friend Ann at the event, and as soon as I sat beside her she told me "there are Tea Party people here". The Tea Party leader apparently felt it was his job to fact-check the HHS director. Unfortunately for the Tea Partier, the HHS director wasn't engaging in any kind of hard sell of the health care law, but was simply explaining how it works, a factual recitation with slides, so the cross examination by the Tea Person sounded a little silly.
I deal with county and state agency employees a lot in my work, so in my view this paranoid, combative approach is akin to my challenging an employee of a state or county agency who is explaining a rule change or some other incredibly dull process with "you, sir, are a LIAR". In other words, he wasn't there for information he was there to discredit the speaker, and that approach just sounds bizarre and unhinged outside of Fox-News-World.
As an example, The Tea Partier focused for a long time on an "inaccuracy" he had spotted, where he objected to the HHS director and other attendees stating that they "could not" purchase health insurance if they had a pre-existing condition prior to passage of the law. The Tea Partier insisted that they COULD have purchased a policy, but they couldn't AFFORD a policy. I'm not sure why this distinction was so important to him, or why he seized on it in this sort of smoking gun, lawyer-on-The Simpsons way, returning to it again and again, but one of the attendees got tired of it, turned in her seat to face him and and shut Lionel Hutz up with "it was unavailable TO ME. Okay? TO ME". He seemed smugly satisfied with that important concession. There was more along those lines, but I was really amused near the end when the Tea Partier volunteered that he had ten thousand dollars in a health savings account, because blurting out "look at me, LOSERS, I have TEN THOUSAND DOLLARS!" reminds me of Mitt Romney.
There was a lot of information presented, so I'll just give you the outlines and an excellent link, to Small Business Majority, which is a national public policy advocacy organization which is not (yet) owned by the Koch Brothers. We can hash out the details some other time. There is a "tax credit calculator" at the link that is helpful, so have fun with that!
• If you have up to 25 employees, pay average annual wages below $50,000, and provide health insurance, you may qualify for a small business tax credit of up to 35% (up to 25% for non-profits) to offset the cost of your insurance. This will bring down the cost of providing insurance.
• Under the health care law, employer-based plans that provide health insurance to retirees ages 55-64 can now get financial help through the Early Retiree Reinsurance Program. This program is designed to lower the cost of premiums for all employees and reduce employer health costs.
• Starting in 2014, the small business tax credit goes up to 50% (up to 35% for non-profits) for qualifying businesses. This will make the cost of providing insurance even lower.
• In 2014, small businesses with generally fewer than 100 employees can shop in an Affordable Insurance Exchange, which gives you power similar to what large businesses have to get better choices and lower prices. An Exchange is a new marketplace where individuals and small businesses can buy affordable health benefit plans.
• Exchanges will offer a choice of plans that meet certain benefits and cost standards. Starting in 2014, members of Congress will be getting their health care insurance through Exchanges, and you will be able to buy your insurance through Exchanges, too.
• Employers with fewer than 50 employees are exempt from new employer responsibility policies. They don't have to pay an assessment if their employees get tax credits through an Exchange.

This woman is self-employed, had a pre-existing condition, and was unable to purchase health insurance prior to passage of the law. She pays $315 a month for her policy. She brought her insurance card to show the HHS director, so I took her picture: