My daughter has played little league softball for years, and somehow, I've avoided volunteering for anything all this time. I've never been a "team mom." I've never raked an infield or created chalk lines. I've paid teenagers a pittance to take on my concession stand duties. I've bought the whole damn box of fundraising candy bars and distributed them free to beggars. (Well, the ones I didn't personally eat. The candy bars, not the beggars. And where "beggars" are defined as trick-or-treaters or anyone else I can pawn the damned things off on.)
In an inexplicable and unprecedented paroxysm of guilt and stupidity during the most recent call for volunteers, I raised my hand when no one else volunteered to fill the position of team scorekeeper. "How hard can it be?" I thought. I can count the damned kids when they cross the plate. I should have realized by the surprised reaction of several people — including the team manager and my daughter — that this was a huge mistake while there was still time to back out.
My MLB-loving, baseball stat-encyclopedia husband wasn't there to stop me, but when I told him I was going to be the scorekeeper, this is what he said: "Hahahahahahaha!" As it turns out, there's a lot more to it than counting runs and calculating simple sums. For example, the image below is not the Mars Rover schematics I first took it for but rather the scorekeeper's sheet: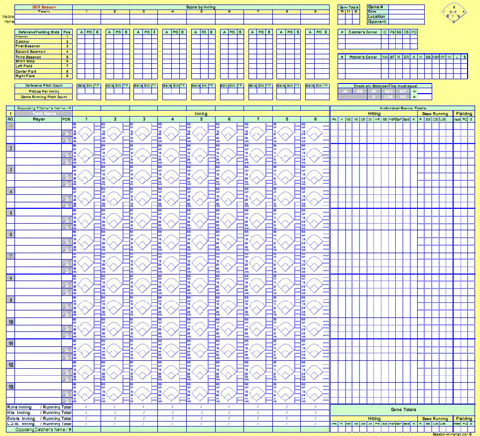 Fuck! Also, you have to know what things like "Fielder's Choice" and "Pass Ball" are. And when things are "errors" and "assists" and the code to record who did what. And you have to keep track of rosters and substitutions for both teams. And you have to politely repel angry grandmas who insist you're fucking up the error assignment, even though it's only a goddamn scrimmage game, so she should shut the fuck up or volunteer to do it herself. And you can't enjoy watching your own kid play because every second you have to track every fucking activity occurring on the field, with no breaks to pee or get a drink, which you'll dearly wish was vodka instead of tepid water.
Man, this sucks! I found a tablet app for scorekeeping, but the league officials shot that idea down because they want their precious stats in their precious spiral notebooks. I have to keep score this afternoon for reals this time. Please keep me in your thoughts.
[X-POSTED at
Rumproast
]