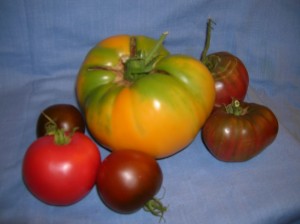 __
I believe this would be about the right time, here in the cold states, to set up the plant lights, pick out the seed packets, and start germinating transplants for the coming spring. Except I don't start my own seeds, so I can't properly illustrate that process. (Be more than happy to front-page photos and/or explanations from more dedicated gardeners, hint hint, if you email me at AnneLaurie @verizon.net or click on my name near the top of the right-hand column.)
Instead, I've been combing the internet, making up lists of tomato plants, trying to balance my rapacious greed for summer's bounty versus my severely limited 'garden' space and personal energy. There's a couple new varieties I'm really curious to try: the anthocyanin-rich Indigo Rose (a blue tomato!), Berkeley Tie-Dye (which I'm hoping can replace the Vintage Wine I haven't been able to locate for the past couple years), Cherokee Chocolate(love Cherokee Purple, adore most 'black' tomatoes, am curious as a cat about the combination), and Azoychka (I like the citrus tang of yellow tomatoes, but they don't grow well for me, and this variety is supposed to be relatively fool-proof). Also 4th of July and the grape-sized Cabernet for earliness, and Sioux for heat-resistance, if we get another stretch of 90-degree weather when nothing else will set fruit.
My personal go-to sites for tomato plants are Territorial Seeds and The Tasteful Garden. I'm also planning to order from Heirloom Tomato Plants this year, because they have Isis Candy (my second-favorite cherry tomato) and Opalka (which is hella prolific for me, and the most flavorful roasting tomato ever). Recommendations for other sources always welcome — especially if anybody has a source for Sweet Treats or Ramapo plants…
Here's the rest of my current list:
Cherry / grape (small): Black Cherry, Golden Honeybunch (orange), Golden Pear, Sungold, Sweetheart, White Currant (my favorite – no bigger than Skittles, and much the same flavor profile)
Yellow-orange : Kellogg's Breakfast, Old German, Pineapple
"Black" (brown/burgundy): Black Krim, Black Prince, Japanese Black Trifele (these fruit in sequence here), Cherokee Purple, Sara Black
Reds/pinks: Carmello (for reliability & profusion), Momotaro, Oxheart Rostova, Rose de Berne (for deliciousness), Stupice (the earliest in my garden last year, even before the first cherrys)
And since we've got a good local nursery nearby, I can count on picking up another half-dozen Old Reliables — Roma, Eva Purple Ball, Juliet, Matt's Wild Cherry. Which would be, yes, a ridiculous number of plants for a two-person household, if I expected more than a dozen or so fruits from any of the full-sized plants over the course of the season. (My fault, not the plants' — I crowd them too close and don't fertilize often enough.) I'm lucky enough to be doing this for flavor, not frugality; hey, some people don't understand why there are so many craft breweries when Coors sells 24-packs at a discount, amirite? Thank goddess single plants are so widely available these days; even a decade ago, trying to find homes for all those six-pak 'orphans' drove me nuts!
So… what are everybody's 2012 garden plans looking like, right now?