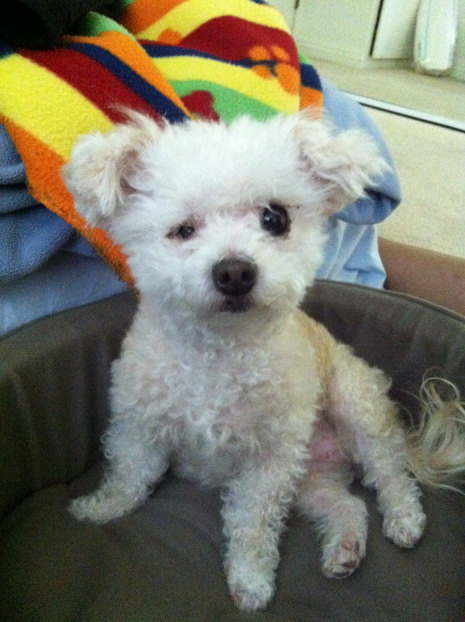 __
From commentor SB:
A few days before Thanksgiving, Los Angeles was pounded with nearly two inches of rain in one night (settle down, east coast people–for us, that's a pounding). My stepbrother and his fiance were going out for the evening when they looked up the street and saw a very small animal they thought to be a cat but turned out to be this little girl. She was drenched, her hair matted and my stepbrother picked her up, told her fiance that going to a club was "off the schedule" for the evening and brought her home. He got her cleaned up, took her to the vet (who emphatically said she would likely not have survived the night) and he let my mom know there would be one more guest for Thanksgiving. We live in the South Bay so we took her in with the purpose of finding a home for her (the place is filled with dog lovers) but we first visited a local vet who shared the following:
__
a) the dog was nearly blind from scratching her own eyes and will doubtless be completely blind within a year and
b) she had leg trouble which could be improved through anti-inflammatory meds but no guarantees and
c) she had "been through it" and is "one tough broad" (we really like this vet) and finally
d) she's got a purple tattoo with a number on her belly, meaning she was running with a "rough crowd" (puppy mill?)
__
As the vet was describing all of this, my wife went from gently petting the dog to holding the dog protectively. I knew what she was going to say to me when we left the office: "We are not giving up this dog. We're taking care of her." And that was that.
__
We named her after where she was found: Puddle. Since the picture, she's gained more weight (up to five whole pounds), seems to have added a lot more fur and loves nothing more than to curl up in our laps for a nap. What can I say? Our family is in love.
(I'm puddling up a little myself here…)
Ahem. What's on the agenda for the start of another week?