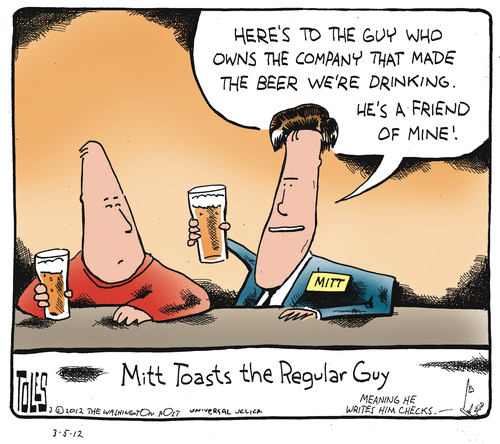 (Tom Toles via GoComics.com)
Many of us have wondered what kind of person would support Willard "Mitt" Romney in his ongoing, inept, relentless campaign for the GOP presidential nomination. Paul Constant at Seattle's The Stranger offers a glimpse at one facet of the kaleidoscope:
I've been to every rally held by every major Republican presidential candidate in the greater Seattle area this month. And I didn't attend these rallies in the cushy press boxes, safely back from the candidates, with a great view and perfect sound. I attended these rallies the way everyone does, among the supporters, in the thick of it, and I can tell you that I hate the Romney crowd worse than all the others. The Santorum crowd seethes with hatred, but it's honest hatred, the unabashed hatred of bigots. The Ron Paul crowd is irredeemably dumb, but they believe they're doing the right thing. The Gingrich crowd is sleazier and thinks way too much of its own intelligence, but they have that unashamed teabagger bravado going for them. The Mitt Romney crowd, simply, is wall-to-wall self-entitled assholes.
__
They spout bile on all their foes. I heard more birther chatter in today's crowd than at any other rally… The hate wasn't just for the president. An older woman said that avowed Romney-hater Rush Limbaugh "used to be great," but now he had gotten "raunchy." Democrats are just stupid and hate success: "See, they don't want this rich guy in office, but they don't realize this rich guy knows how to make America rich!"
__
But mostly, the Romney crowd is just fond of themselves. Everyone in line believed they were too special to be standing in line. They complained that volunteers got to get in first, when they personally knew Washington Republican Party Chair Kirby Wilbur. They grumbled about having to stand outside, and how organizers would be hearing from them. They sent their spouses out to scour the line ahead, to see if there were friends who would help them cut in for a better position. The self-entitlement was thick, is what I'm saying. There were so many centers of the universe in line that the entire galaxy should have collapsed in on Bellevue under the strain…
In other words, as Mr. Charles Pierce puts it, Willard "is a locust of a politician, consuming what he can and moving on… the great ingrate of American politics", and his fellow locusts are proud to recognize him as their king.
Apart from the ongoing decline & fall of the Republican Party and all its proponents, what's on the agenda tonight?