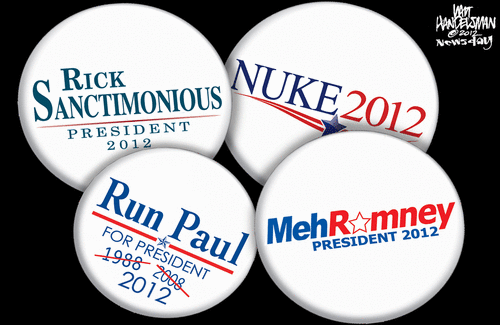 (Walt Handelsman via GoComics.com)
Here in Massachusetts, nobody's even bothered to advertise on the Old People Network News, for variety among the Boniva/Cialis/Embrel/Advair/AARP come-ons. If Romney isn't granted our Commonwealth's chance to lose to President Obama come November, the shock may prove fatal even to some of the local Democratic operatives. A little something from Doghouse Riley to put everybody in the mood for the day:
THE 2012 Republican Presidential primaries will be remembered, if at all, for having taught us any number of things we already knew.
__
Rush Limbaugh is a human cloud of flatulence. Rick Santorum is a 10th century religious lunatic. Newt Gingrich is to serious politics what Newt Gingrich is to academic history. Nobody likes Mitt Romney.
__
Of course the preeminent truth is that the whole goddam party is insane, and that the Press, having ignored the over-abundance of evidence of this for a generation, now finds itself incapable of dealing with this…
__
For those of you just tuning in, or exiting a coma, yes, this is the very same Republican party which threw out African-Americans–literally, not just figuratively–by dissolving all the Reconstruction-era Republican organizations across the south in 1964, and which has been milkin' that same bull ever since. It's the same one which is currently involved in a national effort to obstruct voting by poor people. It's the one where the "moderates"–see McCain, "Desperate John"–are the ones who've flip-flopped on the issue. Now a fast-growing Hispanic minority is an opportunity you're not taking full advantage of? Maybe you people should come out in favor of contraception. In selected drinking water supplies.

The question many Republican strategists are asking themselves at the moment is whether — in 2012, 2016 or even 2020 — it's worth taking one step back in order to, hopefully, take two steps forward.

GOP 2020: That Shit-Stain Was There When We Got Here.
__
Two steps forward to what? You've had thirty years at least to do something about this. Your brand, clearly, consists of pushing hot buttons for votes, not offering a vision of leadership. You're not one lesson, or two, away from righting the ship. You're forty years off course.
***********
So, what's on the agenda here in the Reality-Based Community?