This is dumb, even by Doughy Pantload standards: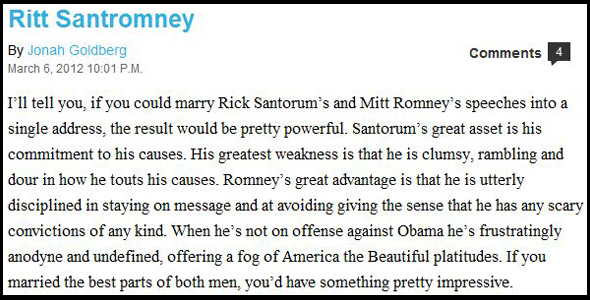 Neither man is noted for his speaking abilities, so why would anyone want to "marry Rick Santorum's and Mitt Romney's speeches into a single address," knowing that the result of that unholy alliance would either be pablum delivered in angry tones or grievances recited robotically?
What Goldberg actually longs for is a candidate who combines Santorum's Torquemadan zeal to root out and reprove wickedness with Romney's droid-like mien. But Goldberg begins with the reference to the speeches because suggesting a marriage of the men would be so, well, gay.
However, with typical sloth, Goldberg goes ahead and screws that metaphorical pooch anyway: "If you married the best parts of both men, you'd have something pretty impressive." Married man parts — on NRO! Heckuva job, Goldy.
[X-POSTED on
Rumproast
]