Hands down, the most embarrassing piece of "journalism" I have seen in a long, long time:
Where do we start?
1.) The fundamental misunderstanding of what a referendum is. The notion that there is something mutually exclusive in a referendum on Obama and a reminder of where we were when he took office is sophist gibberish at best. A referendum on an elected official is precisely that- you look at where we were, you look at the policies of the administration, and you look at where we are now. Every single President in history has done this. Sometimes they do it for self promotion, sometimes they do it to attack others. Like, for example, this:
You see what he did there? It was a referendum on Carter AND AT THE SAME TIME asking people to look at where they were several years ago. What a concept. Or, exactly what team Obama is doing. And despite Tapper's insistence, team Obama is doing this not to run away from their record, but to embrace their record, because they (and anyone with a functioning noggin) would agree.
2.) The stuff about his odds for re-election being better if he makes this not about him is just nonsense. If it is about him, you wouldn't look at job approval (and for some reason, he won't even use his own news organizations poll numbers), you would make it about personal approval rating, which is still in the 70's.
3.) The unemployment rate data is absurd- unemployment climbed because we were in a global economic crisis. He took over while the economy and employment were nose-diving, and it has been improving ever since. Tapper wants to blame Obama for a crisis he did not create: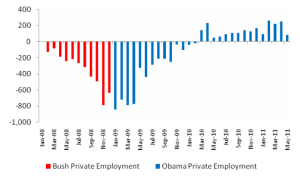 4.) Gas prices were at $1.84 because we were in a global economic crisis, and the bottom fell out for demand:
Remember $4 gas? Soon it will be $2 gas.

As the nation's economy worsens, the demand for oil and gas wanes. As a result, prices drop. And drop. And drop.

The price of gas fell overnight Sunday for the 60th consecutive day.

The national average price for a gallon of regular gasoline fell 2 cents to $2.105 a gallon, according to a survey released Sunday by the American Automobile Association.

A gallon of gas has dropped nearly in half since hitting an all-time high of $4.114 on July 17. It's been nearly two years since prices were this low, according to AAA figures.
Gas prices were much higher prior to the economic collapse: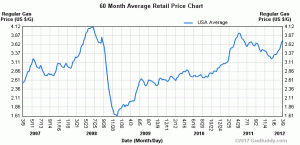 In the midst of the global economic crisis, they plummeted. Pointing that out and thinking you are on to something is as stupid as noting that bags of ice were probably pretty cheap during the ice age. Pure, unadulterated wankery.
5.) Housing prices? Housing prices? Has our intrepid reporter never even heard of the housing bubble which CREATED THE GOD DAMNED CRISIS: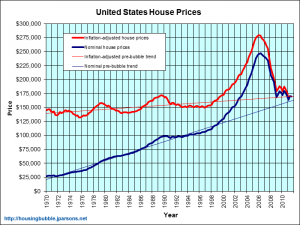 And many, many economist and experts still believe housing values are still overinflated. Pinning that on Obama is hackery of the first order.
6.) Republicans aren't motivated in the least bit- it is the Democrats who are energized. Hell, Republican primary voting is millions below what it was in 2008. Don't believe me, Jake? Ask Huma Khan. You might know her, as she works for ABC News.
I've defended Tapper in the past (as well as launching haymakers) and I really do think of the press pool, he is one of the best, refusing to take bullshit answers and showing a tenacity the others lack. But this was the worst piece of journalism I've seen outside Breitbart or the WSJ op-ed page. Pure, unadulterated hackery.
This report was devoid of any context, stripped of any insight, and more than likely left viewers dumber than they were before they saw it. In other words, a perfect example of modern journalism. Hell, this wasn't a news report. It was an audition for Fox News or Politifact. Or maybe to be the future director of RNC commercials.
This piece was Halperinesque.