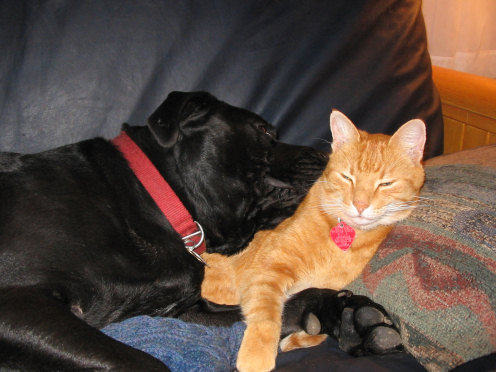 From commentor Muddy:
All of our many dogs and cats have been rescued from some bad circumstance or other. It's their ticket in. I will just tell you about Fionn and Druid. Fionn was a terrific mouser (3 vole a day man), but seemed to think himself a dog. He had no interest in our other cats and followed the dogs everywhere, crunching mightily at the large chunks of dog kibble in the bowl, climbing up into the toilet bowl to drink with them. The two dogs didn't want him in the pack. The people that lived behind us had a cow, and it was herdless and sad. And complaining. Fionn started to go down to where the cow waited at the fence, and he'd sit for hours on a branch over the fence, and the cow stopped bellowing. Fionn had a pack and the cow had a herd. It wasn't long though, before the cow went the way of all good things.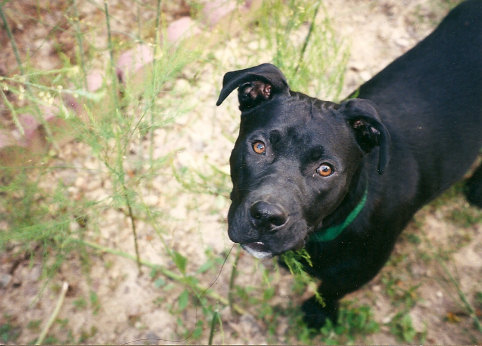 During this period I was doing some guerrilla dog rescue with my friend Wendy, illicitly liberating them from very abusive situations, fostering and re-homing them. My friend is a real hero in this regard, and works hard in the field in an official capacity now. We lived in NC then, and there were only kill shelters at the time and animal abuse was pretty much accepted ("how else they gonna larn?"). My house was the 1st stop on the underground railway because I had a fenced yard and dog crates, also I worked at home and was available for the animals all the time.
__
So my friend was up on the mountain, and got a small black puppy, just a skeleton with a breadbox for a head. She brought him to me. He was in bad shape, he had scabies as well as being a complete skellington. The grooves between his ribs were so deep that when I put my fingers in them the ribs stood up higher than my fingers. I work with my hands and do not have slim fingers! On that first day when we settled down I looked into his eyes and I just recognized him, as though I had known him before and had just been waiting for him to come back. I had no idea what sort or size of dog he would turn out to be, since he was in such a bad condition. As he filled out the vet said she thought he was likely a cross between a black Lab and a pit bull.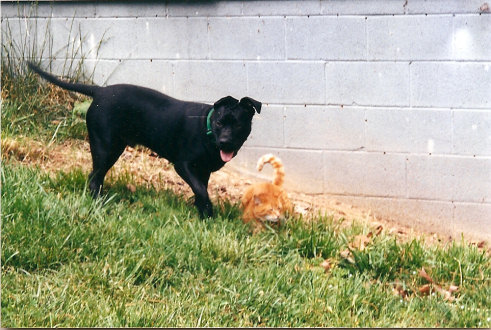 Druid's big interest in life was eating. No wonder, after starving like that. He ate an antbait and then happily lapped up the hydrogen peroxide I gave him to make him puke it up. mmm He ate limes and jalapenos. But his true love was Fionn. The other dogs were not enthused about this sad new dog specimen, but Fionn was excited to find a dog his own size (for a while), and welcomed him with open paws. They were together constantly from then on. Played in the yard together, slept together, ate together, shared the sunbeams. Druid, despite his eternal hunger, did not mind sharing his food with Fionn. Fionn would return the favor by pushing food off the counter so they could both eat it. Fionn never ate it on the counter. Fionn began to sport a spiky hairdo from dogspit, straight from the 80's. I'd come across them with Fionn's head entirely inside Druid's mouth, like a gob-stopper. Purrs are echoing down the dog's throat. Druid eventually grew to 125 pounds, whereas Fionn stayed 12 pounds, but they seemed to think they were a matched set. Seeing my photo album, people have asked if I ever got any pictures where they were NOT together. Rarely.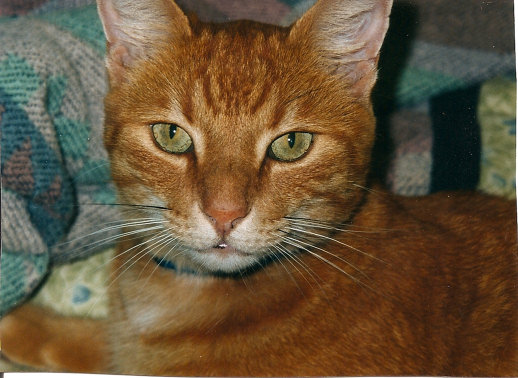 Although Fionn thought that he was a dog, he sometimes did cat things. He climbed over the fence, which good dogs don't do. He drank antifreeze in the street and developed kidney failure. By the time he was diagnosed and the blood tests confirmed, it was too late. Fionn spent his last night as he had spent all the others, as a pillow for Druid's giant head. Druid was heartbroken. He hung with the dogs but without much enthusiasm. More cats have arrived since then, but Druid wanted no part of them either. His friend Fionn was not just a cat, and there was no kind of familiarity or consolation to be found there. He was not unkind to them, but just averted his head when they tried to smear on him.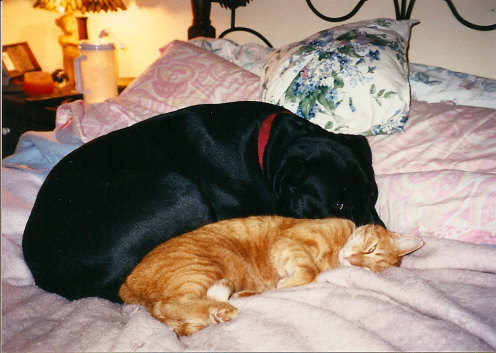 It had been a few years since we lost Fionn and finally Druid was the only dog left as well. He had cancer and severe arthritis and was going out the way he came in, too damn thin. His new mania near the end was eating snow, and he would stand outside in his giant sheepskin coat eating snow when it was 25 below in VT, until I yelled at him and insisted he come in. He had no fever, but really liked that snow. So I stepped up his quota of frozen marrow bone slices that he received. This was last winter. This year it's the horrible wretched winter of no snow, I feel as though he liked it so well he took it with him.
__
I am not a believer in spiritual things, I don't believe in reincarnation, I don't believe in an afterlife. I make an exception for Fionn and Druid. They were so devoted in life, I like to think they are together now. It helped me as I watched Druid fade. We have had many dogs and cats in our family, but I have never seen a bond like theirs even within species. Any of us would be lucky to have such a devoted partner. I am lucky to have had them, and all the others, in my life.
__
A year ago, Druid for the first time refused food. When I usually took him to the vet he would get on the scale and then try to turn around and head back out the door, because the back room is where vampires and evil manicurists live. This last time we went in, and after sampling the vet's snow he walked straight past the scale to the back room, and laid down on the blanket they had waiting. He giggled a bit, which he had not done in a while. I guess he just was pleased that they had a blanket at the vet when they never had before, but somehow it felt like he knew, and he was happy. If dogs have white light moments, he saw his boy Fionn.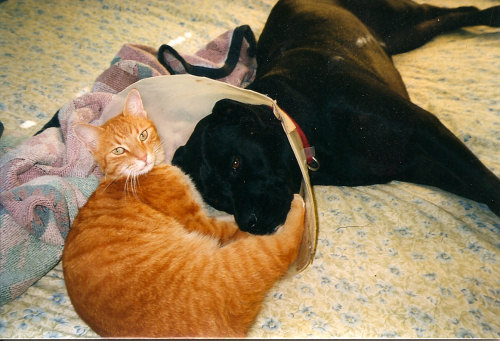 It was the first time in decades that I had been without a dog. The earth was off its orbit. I felt I had become invisible. The cats didn't mind my business all day, I had no entourage. It was also the first time I had gone looking for a dog. They had always presented themselves before. When people asked what kind of dog I wanted, I said I wanted one who would mind my business. I did find my new partner, he's a real good boy. I was thinking about Fionn and Druid because the new guy has started a play relationship with one of the cats. It was hysterical to see him learn how to do the ultra-high-speed-triple-thwack-high-paw action from the cat. It might be the beginning of a whole new love affair.