Watching old episodes of Worst Cooks, and I apparently missed Season 2 when it aired. In one episode, they made them all make a side dish with something they hated, and I was surprised to see several of them pick Brussel Sprouts, which is really one of my favorite vegetables. So much so that I grew a ton of them this summer.
I guess if I had to choose something I hated, it would be eggplant. Love it in baba ghanoush, but cooked whole like in eggplant parmesan, it doesn't matter how much marinara or cheese you put on it, I get the gag reflex. As far as meats, liver. Again, I like pate, but the idea of liver and onions is enough to make me want to throw up. When we were kids, dad used to make it all the time, and I still remember sitting at the table, chewing one tiny morsel forever and drinking a half a glass of milk to try to swallow one bite of liver in the hopes the milk would just sweep it down, but my throat would close after the milk I would end up spitting it out after drinking the milk. The funniest thing is that Devon and Seth loved it, as well as dad, so we had it a lot. Why is that funny? Devon and Seth have both been vegetarians now for 20 years.
Other than that, the only other thing I can think of that will make me ill is the mere smell of Southern Comfort. I attribute this to an experience about 25 years ago that involved vomiting through my nose underneath the bleachers at a HS football game. If someone so much as orders a shot next to me at a bar and I catch one whiff of it, I go pale, start to sweat and feel queasy, I get a metallic taste in my mouth, and those glands underneath my tongue start watering like when I used to get carsick as a kid. Just foul, foul stuff.
Any foods that the mere mention of them make you ill?
*** Update ***
Tammy is learning the hard way that puppies get into everything: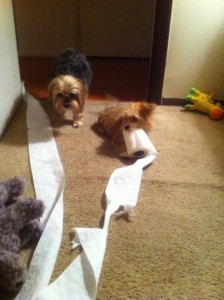 According to Tams, she apparently left the closet door open, Charlie engaged in her butt ribbon redecorating, and Samantha came in to make sure Tammy understood she was not at all responsible for the shenanigans.