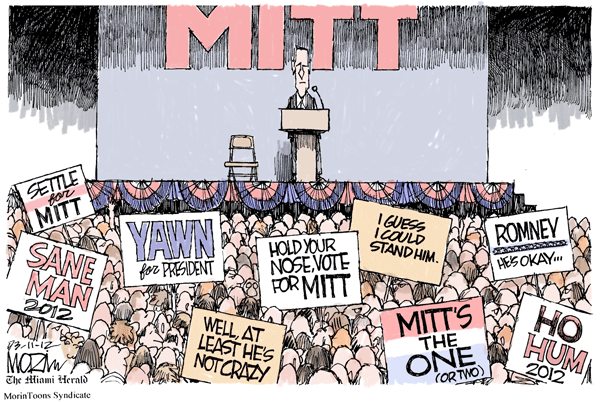 (Jim Morin via GoComics.com)
Rick Santorum makes him a patsy. Kathleen Parker, of all people, thinks he's a poser ("Would Romney greet an audience at a Jewish Community Center with: "Oy vey, did I ever enjoy my loxies and bagels this morning!"? Or African Americans with: "Yo, dawg, wassup?" Actually, yes, he might…"). And the Thurston Howell moments just keep coming:
Republican presidential candidate Mitt Romney used a private, VIP Registry of Motor Vehicles office Wednesday to renew his Massachusetts driver's license, avoiding the lines and the aggravation that have been synonymous with the agency.
__
The office, located in the State Transportation Building, is just blocks from a standard Registry branch in Chinatown. But Romney instead went to the headquarters of the state's Transportation Department, visiting a second-floor office belonging to the Registry's enforcement division, his campaign confirmed Thursday.
__
The space is often used by state troopers investigating accidents, though it has also become known as a place for celebrities, athletes, and other high-profile drivers to transact their business. The Registry officials said such drivers receive different treatment because their presence in a public Registry branch could cause a disruption.
__
"Particularly because he has Secret Service protection, we thought it was a prudent request to let him do it in that fashion,'' said Cyndi Roy, a Transportation Department spokeswoman…
I've been to that Chinatown branch, and while nobody could accuse the staffers of wasting government dollars on amenities, it hardly seemed like a den of iniquity where resentful patrons were liable to engage the Secret Service in a gun battle over line-cutting.
Also, in its best Media Village courtier mode, the Washington Post chose the Sunday before 'Southern Supertuesday' to remind everyone that Mrs.Thurston Howell has a very, very expensive hobby:
Dressage demands agility and finesse — and money. Ann Romney's involvement in the sport has allowed her access to the heady world of high-level competition, but it has also exposed her to horse dealing. Two years ago, it resulted in a lawsuit against her alleging fraud in the sale of one of her horses. And that lawsuit provided testimony in which she spoke in unusual detail about the benefits — and the costs — of riding…
__
The Romneys, through a campaign aide, declined to tally how much they spend on dressage, saying, "We are not required to disclose this information." But some of their animals cost more than $100,000, and the Romneys continue to sink tens of thousands of dollars into year-round training and feeding, plus veterinary bills…
Of course, if I were Ann Romney, I would probably take up dressage, too, unless I could find a medically necessary excuse for using hundred-dollar bills as kindling in every one of my several homes' many fireplaces. You'd think one of Willard's campaign consultants would convince him that Jes Folks Like You! is never gonna fly as a marketing point for his misbegotten campaign to get beaten by President Obama even more respondingly than he was beaten by McCain…