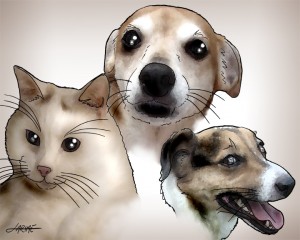 You know, the economy has hit a lot of people pretty hard. I try to help out where I can, and I donate to certain charities that I think are worthwhile. However, I think the best way to help is to buy products from good people rather than wasting my money sending it to corporate whores. As such, I buy local as much as I can, and I support people like this every chance I get:
Larime Taylor is a disabled mouth artist living in California. Life on $750 a month from Social Security isn't easy, so he supplements his income with his art. Feel free to look around, and if you like his work, please consider commissioning something of your own. All purchases help to support Larime and his disabled artist wife, Danielle.

Larime draws with his mouth on a Wacom Cintiq tablet generously provided by Wacom. All artwork is digital – there are no 'original' or 'hardcopy' versions – and finished art is provided in hi-res, print-ready .TIF format.
Here is a picture of Larime doing what you and I can't do with our hands. It really is amazing, when you think about it: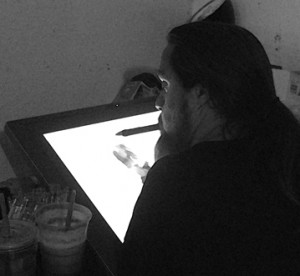 Recently, he has been going through a tough time. The state has put a lien on his caregiver, making life very difficult for Larime and his significant other. But, like a real American, he isn't asking for a handout. All he wants is some work, some way to sell his wares and provide for himself. If others choose to donate, well, that would be great, too. Here is Larime in his own words:
I've been hit hard. California has been taking over a third of my roommate/care provider's checks for 'owed taxes' she doesn't owe, and it's clobbered us good. I paid the rent at the beginning of the month last month before I knew this was going to be happening, and then went the rest of the month unable to pay any of our utilities and barely able to feed us as a result. This month, I've taken care of the utilities and can probably feed us, but I can't pay the rent. Our landlord is in a position where he's not really able to help cushion us anymore, so I'm really up against the wall.

The good news is that they've taken all of the supposedly owed money that they claim we owe, so they won't be talking anymore paychecks going forward. The bleeding is over. Come April, we'll be back on top of everything again and able to pay rent, bills, and food without a problem. Before the new year, this would have killed us for months, but now we're in a much better position to take things like this.

Unfortunately, the landlord isn't. He's been unemployed for a while but is getting by, though he can no longer float us. I probably owe him around $10K in back rent over the last 5 years, but he's not pushing me for it. He just wants me to keep current so he can make the payments.

Once we can satisfy the state that we don't in fact owe them, they'll refund the money they've taken. That'll be great, whenever it actually happens, but right now doesn't do us any good.

Our rent is $875 a month. Anything that you might be in a position to help with towards that would be greatly appreciated. If not for this tax lien bullshit, we'd be fine. Things are actually going pretty well for us right now. I apologize for bothering all of you, and thank you again for all that you've done. He has Paypal (I don't) for anyone wanting to give directly that way. Contact me at: xlarimex(at)gmail(dot)com and I'll give you his paypal.
I support that. If you think a nice commissioned piece of artwork of your piglets is something you would like to have, something you could frame and place somewhere in your house, please consider giving Larime the opportunity to make something that will make you smile as much as the piece above makes me smile. I challenge you to find something that captures the essence of Lily and Tunch and Rosie more than that, and HE DID IT WITH HIS MOUTH. It's good honest work, it's of a timeless quality, and it will make you happy every time you see it, just like the picture of my piglets makes me smile every time I see it.
To order through his website, go to http://www.larimetaylor.com. He'll be able to work out whatever you want through that website, and I guarantee you will love his work. Hell- look how good Tunch looks above. There may even be a slimming effect for your pets, too!