We went out to Toledo this morning to see the Vice President speak:
Vice President Joseph R. Biden Jr., the Obama administration's go-to emissary to the Rust Belt, waded into his political sweet zone on Thursday, promoting the White House's economic record to a raucous gathering at the United Auto Workers Local 12 hall. He talked up the American auto industry, praised the president's spine and criticized the Republican presidential candidates by name – repeatedly – accusing them of being "about protecting the privileged sector."
"I am laying out a clear and stark difference between us and our opponents," Mr. Biden said before a supportive crowd of about 500, many of them employees of Jeep, one of this city's biggest employers.
Mr. Biden's drop-in to this electorally vital state was billed by the president's re-election enterprise as a first salvo of sorts in a more formal phase of the campaign.
Mr. Biden's rhetoric was also more nakedly campaign-oriented than typically vice presidential. It included explicit denunciations of some of the remaining Republican candidates, Rick Santorum, the former senator of Pennsylvania,Newt Gingrich, the former House speaker, and – particularly – Mitt Romney, the former Massachusetts governor, whom the White House still views as its most likely challenger in the fall, despite Mr. Romney's losses to Mr. Santorum in two Southern primaries this week.
"The verdict is in," Mr. Biden said. "President Obama was right, and they were dead wrong."
General raucousness: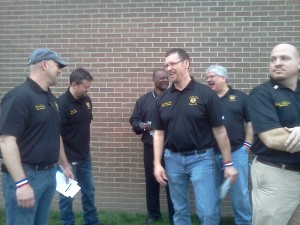 Less raucous, but maybe more dangerous. The woman on the left is a neighborhood team leader (Alinskyite, obviously) and the woman on the right calls herself a "volunteer" (ACORN?):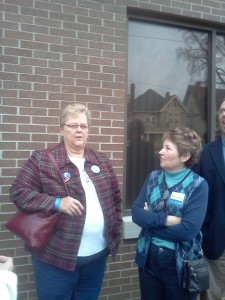 We here in Ohio are going to hear how Mitt Romney wanted to let Detroit go bankrupt each and every day until November.