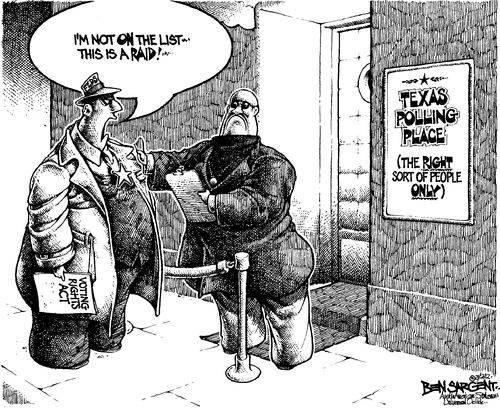 (Ben Sargent via GoComics.com)
__
Via Charles P. Pierce at Esquire, "State tries to force challenge of U.S. voting law":
Attorney General Greg Abbott on Wednesday made a direct constitutional challenge to a piece of the historic Voting Rights Act of 1965, which singles out Texas and several other states.
__
Abbott took aim at a section of the act that requires Texas and several other states, mostly in the South, that have histories of discrimination to "pre-clear" any changes to election laws. Abbott seems to be using the U.S Department of Justice's recent denial of pre-clearance of the Legislature's controversial voter ID law, which would require voters to present a valid form of photo identification before casting ballots, as a way to try to change the larger decades-old requirement…
__
In the filing to a three-judge panel in Washington, the state asked to submit a petition charging that Section 5 of the Voting Rights Act "exceeds the enumerated powers of Congress and conflicts with Article IV of the Constitution and the Tenth Amendment."…
Mr. Pierce goes there:
… The truly nervous-making part of the whole thing is that line at the end of the news story in which we are told that both Chief John Roberts and Justice Clarence Thomas have "raised concerns" about the pre-clearance provisions "needs." Which, one supposes, are based on the argument that, because the nation has triumphed over racism and even elected a black guy president, the pre-clearance provisions of the VRA are now obsolete. If the Supreme Court has a couple more justices with these concerns, the whole structure of what was achieved at great cost in the 1960's could be sticks and splinters in a very short time.
__
The obvious rejoinder to all this is the staggering welter of voter-suppression laws that has erupted in the various states in the aftermath — and, I would argue, as a result — of the country's having elected a black guy as president…
I know there are not-insane Texans here — does AG Abbott actually stand a chance of pushing this rock uphill, or is it just election-year kabuki to keep the Tenther rubes distracted?