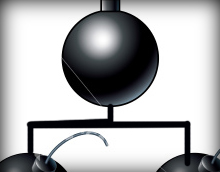 David Ignatius at WaPo released some tidbits from Osama bin Laden's personal papers, which were seized after the SEAL team waxed the terror kingpin. I don't know what I was expecting — a good old-fashioned Batman villain, maybe. But Osama comes across like the Brand Manager of the Sanitary Napkin Category at a backwater Koch Industries health and beauty products division. He fretted about consumer perceptions and brand equity, dispensed fancy titles like "Deputy Emir" to underlings and pulled together annual reports. The banality of evil still surprises.
After President Obama reversed Bush Administration policy and stopped using the phrase "Global War on Terror" to describe the twin clusterfucks in Iraq and Afghanistan and assorted US meddling worldwide, al Qaeda seriously contemplated a corporate identity overhaul in response. They felt that the more narrow focus on their own organization diluted the pan-Muslim jihadi image they were trying to project. It was like everyone was unfriending them on Facebook or something. Score one for President Obama, I suppose.
The big revelation: bin Laden wanted to assassinate President Obama because, according to bin Laden, "he is the head of infidelity and killing him automatically will make [Vice President] Biden take over the presidency… Biden is totally unprepared for that post, which will lead the U.S. into a crisis." Somewhat hilariously, the papers also reveal that al Qaeda believes Fox News lacks "objectivity."
The Wingnutosphere isn't sure what to make of the first revelation. Some are all, "O'dumbo is teh most unpreparered o'neegro evar at leest O'biden is wite thx for nothing o'sama u r a looser!" To a man, they are gleeful that al Qaeda dissed Fox News because obviously it follows that Fox News is the only network that embodies Judeo-Christian values. Or something like that.
One hopes further document dumps don't reveal Osama's fondness for "Walker, Texas Ranger" or "WrestleMania" reruns; the resulting plummet in nunchuck and novelty singlet sales might endanger the fragile economic recovery.
Here was my key takeaway from the Osama Papers: The Bearded Boogeyman who caused so much pain and suffering was, at heart, a middle-management marketing hack who happened to traffic in death and misery instead of cheap consumer goods. Had he possessed any true strategic acumen, bin Laden would have sent anonymous gift baskets to the Bush Administration and Fox News, who did more to check "Destroy America" off the al Qaeda to-do list than a thousand bumbling "Deputy Emirs."
[X-posted at
Rumproast
]