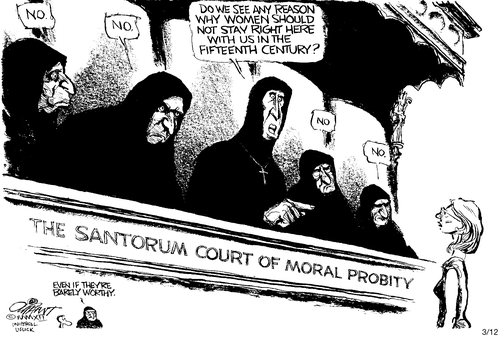 (Pat Oliphant via GoComics.com)
Another day, another Purity Crusade promise from the GOP's latest 'Buzz' Windrip. Doghouse Riley mocks Santorum's newest lure to the Talibangelicals:
From Santorum.com:The Obama Administration has turned a blind eye to those who wish to preserve our culture from the scourge of pornography and has refused to enforce obscenity laws. While the Obama Department of Justice seems to favor pornographers over children and families, that will change under a Santorum Administration.
__
I proudly support the efforts of the War on Illegal Pornography Coalition that has tirelessly fought to get federal obscenity laws enforced. That coalition is composed of 120 national, state, and local groups, including Morality in Media, Family Research Council, Focus on the Family, American Family Association, Cornerstone Family Council of New Hampshire, Pennsylvania Family Institute, Concerned Women for America, The Ethics & Religious Liberty Commission of the Southern Baptist Convention, and a host of other groups. Together we will prevail.

…Really, though, please do tell us how you're going to shut down internet porn. I guess because you people believe Al Gore invented the thing you think we run it, huh?
__
Oh, you'll appoint a wingnut AG? There's a news flash. You have some dim awareness that Ed Meese and John Ashcroft were already there? Maybe we should start covering statues now. And Chuck Keating's still available for Blue Ribbon Commission work.
__
Listen, Frothy: porn addiction doesn't seem to've had as deleterious a sexual effect on our young people as Catholic doctrine has. And no matter how porn-addled, few consumers of the stuff can match your own level of kink.
W.I.P. (War on Illegal Pornography)– anybody else old enough to remember the jokes about Gerry Ford's W.I.N. buttons? Or should that be WIP-Co, which is hardly an improvment?
In defense of us People of Faith (I'm an animist, and yes that is a religion), many of his fellow Catholics aren't enamoured of Santorum, either:
For all the post-game analysis of whether or not Santorum is now clearly "the real conservative" alternative to Romney… the basic point is being missed. The basic argument is not about being "the real conservative" per se; it's about being "the real conservative" as "conservative" is defined by a shoeless, Bible-banging, anti-intellectual, woman-hating, sex-maddened Republican base. And, for the moment, that is Santorum in full… His retrograde position on contraception is now fully part of the mainstream debate. He has been rewarded by the people who feel the same way he does, and they happen to be the people who are driving the train at the moment. And he's doubled down on all the other faith-based nonsense that passes for critical thought in the Republican party. Daring to be stupid is the highest form of courage to the people to whom Santorum is pitching his campaign. And there are a lot of them, and very few of them are sold on Willard Romney…
And Jesuit-trained scholar Garry Wills casts a cold eye on 'Santorum's Arrested Development':

… Santorum says that 62 percent of people who go to college lose their "faith commitment" there. (Odd, isn't it, how even people who believe in the old values have to flop back on social-science talk—"faith commitment" for plain religion?) Some have questioned those statistics, which come from a 2007 report that found even greater decline among those who don't attend college. I do not know how one measures such things, but I think it inevitable that questioning of childhood beliefs should take place at various stages of adolescence. This does not happen in junior year or senior year on campus. It is part of a long process called growing up…
__
Minds grow by questioning things, and adolescence is a great period of questions. Mark Twain and H. L. Mencken learned to cross-examine the Bible all on their own, without any help at all from college. An unquestioned faith is not faith but rote recitation. The opposite of such questioning is not deep belief but arrested development.
__
So Santorum has mistaken his enemy. It is not colleges that steal his kids from him, but growth, especially the wrenching growths of adolescence. He should get at root causes. Abolish adolescence. I am sure modern science, with the help of hormonal retardants, could make this practicable in most cases. Of course, it would wipe out the human race. But perhaps a tested few, home schooled to insure arrested development in all other matters, could be permitted to grow up and breed. And we know they would breed prolifically, denied all contraceptives.
I know some of you predict that Santorum will eventually be caught in flagrante with a live boy, a dead girl, a barnyard animal, and/or some really-hard-to-explain-to-the-TSA items from the Fredricks of Gomorrah catalog. From his public career and what we know of his private actions — going from the Senate to K Street to Fox News, while forcing his wife to homeschool his children and (over)charging the state for expenses — I think he's just an old-fashioned 'kids, church, kitchen' fascist-wannabe who finds his brand of Opus Dei fundamentalism useful as a tool. Rick Santorum loves the God who makes Rick Santorum the pinnacle of creation, and if that God also gives Rick Santorum the right to punish anyone who disagrees with, discommodes, or digusts him, that's just a Right-eous bonus. The creepy thing about Sanctorum is not his "godliness", it's that he worships the "god" he sees in the mirror every morning.