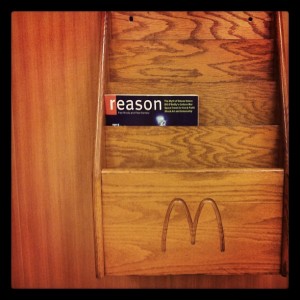 The Reason magazine staff is very, very upset that Dharun Ravi was convicted:
I hope future generations will find the preceding paragraph as baffling as I do. In what the Newark Star-Ledger calls a "high profile case that sparked awareness of cyber-bullying and harassment of gay teenagers," Ravi cammed roommate Clementi canoodling with another man, then tweeted about it. Shortly thereafter Clementi jumped off the George Washington Bridge.

Jacob Sullum on the Clementi/Ravi case: Lack of evidence that Ravi's snooping led to any shaming, outing, or any other public response. Why giving a person 10 years for having expressed unpopular ideas is not different from old-school thought-crime prosecution. How deleting an embarrassing tweet can get you time for "hindering apprehension."
Here's what actually happened, from the story Reason linked to:
Ferreira said the jurors were not in conflict with each other during deliberations.

"I'm actually satisfied with the verdict. It was very hard, very difficult. Nothing means we would be personally biased toward the defendant. You have to look at all the facts and the evidence. That's why you have 24 counts guilty and 11 not guilty. Witness statements and the evidence were not there to prove those," he said. "This was very difficult, but it was a really good experience. You feel like justice has been served."

Prosecutors presented more than 20 witnesses over 12 days of testimony, including students who lived in Ravi and Clementi's dormitory, Davidson Hall, law enforcement officials, Rutgers residence life staff and computer experts.

Clementi, a shy violinist from Ridgewood, and Ravi, a tech-savvy computer geek from Plainsboro, were seemingly ill-matched from the start. The two roommates were worried about living together from nearly the moment they learned each other's names, according to documents filed in court.

When Clementi asked to use their room on Sept. 19, 2010, Ravi went to the room of a friend, Molly Wei, and turned on his webcam from her laptop. Witnesses for the state testified that Ravi built an "automatic accept" feature on his webcam to access it from elsewhere.

Wei and Ravi saw Clementi and M.B. kissing for a few seconds, and Ravi tweeted to his followers that he saw his "roommate making out with a dude."

Two days later, when Clementi asked for the room again, Ravi set up the webcam and double-checked that it was angled at Clementi's bed, according to two students who testified. He also dared his Twitter followers to chat him during the hours Clementi had asked for their room.

One witness testified that Ravi was "uncomfortable" having a gay roommate. Another read a text message in which Ravi explained his computer would "keep the gays away."

But on cross-examination, about a half dozen friends and dorm neighbors of Ravi's told Steve Altman, his lawyer, that Ravi never said anything malicious or derogatory about his gay roommate or about gay people in general.

After the prosecution rested last Thursday, the defense called seven witnesses in quick succession, all friends and co-workers of Ravi's father who said they had never heard him say anything negative about gay people, though they had never actually discussed the topic with him.

Throughout the trial, Altman maintained that Ravi only looked at the webcam to see what was going on in his room because he was put off by M.B.'s scruffy appearance. Ravi told police in a statement that M.B. didn't acknowledge him, appeared much older than a college student, and he got a "bad vibe" from him.

On the evidence charges, prosecutors said Ravi deleted dozens of relevant text messages and tweets, and tried to influence what Wei told police.

Clementi, who leaped to his death from the George Washington Bridge, came after a series of suicides of other young teenagers around the country who were bullied because they were gay or perceived to be gay.
So while the Reason staff looks at what happened and decided that 2 + 2 = flibberdygidget, the defendant knew precisely what happened, which is why after he intentionally set the camera up, live-tweeted it to all his friends to humiliate Clementi, and then learned his roommate had leaped to his death in shame, he systematically went about erasing the evidence and attempted to coerce one of the material witnesses. He made the connection between this kid's suicide and what he had done, and so did the jury.
But even that is besides the point, because guess what, Reason- he wasn't even charged with the kid's death:
Mr. Ravi, 20, was not charged in Mr. Clementi's death. He faced 15 counts of invasion of privacy, bias intimidation, tampering with evidence and a witness, and hindering apprehension. The jury found that he did not intend to intimidate Mr. Clementi the first night he turned on the webcam to watch. But the jury concluded that Mr. Clementi had reason to believe he had been targeted because he was gay, and in one charge, the jury found that Mr. Ravi had known Mr. Clementi would feel intimidated by his actions.

***

The prosecution had pointed out that Mr. Clementi had checked Mr. Ravi's Twitter feed — where Mr. Ravi told others he had seen his roommate "kissing a dude" — 38 times in the days after the first webcam viewing. Records showed that Mr. Clementi had gone online to request a room change, and a resident assistant testified that Mr. Clementi had complained to him.

***

Mr. Ravi's lawyers argued that he was "a kid" with little experience of homosexuality who had stumbled into a situation that scared him. M.B., who was 30 at the time, had made him nervous, the lawyers argued, so he set up his webcam to keep an eye on his belongings. Mr. Ravi, they argued, was being sarcastic when he had sent messages daring friends to connect to his webcam, or declaring that he was having a "viewing party."

But prosecutors argued that his frequent messages mentioning Mr. Clementi's sexuality proved that Mr. Ravi was upset about having a gay roommate from the minute he discovered it through a computer search several weeks before they arrived at Rutgers in fall 2010.
The kid knew what he was doing, the jury understood what he was doing, and you and I all understand that Ravi knew exactly what he was doing. This is no miscarriage of justice, this is the clear application of existing law to a criminal act of bullying, evidence tampering, and attempted witness coercion. He didn't, as Sullum remarked, simply delete an "embarrassing tweet." This is no threat to free speech. This is no prosecution for "what someone is thinking." Free speech advocates have nothing to fear from this prosecution whatsoever. Here is the relevant law for hindering apprehension:
A person commits an offense if, with purpose to hinder the detection, apprehension, investigation, prosecution, conviction or punishment of another for [an offense] OR [a violation of Title 39 of the New Jersey Statutes] OR [a violation of Chapter 33A of Title 17 of the Revised Statutes] (he/she) [refer to appropriate portion of N.J.S.A. 2C:29-3a(1) thru (7)].
While Reason may put quotes o' sarcasm around hindering apprehension, it is an existing law designed to prosecute those who are attempting to cover up an offense.
And he wasn't, as Sullum states, simply expressing unpopular ideas. He didn't say "I hate homos! Being gay is wrong." Or even something worse, like "All fags should die." No, he was not expressing ideas popular or unpopular. Instead, what he was doing was systematically shaming and bullying Clementi, offering others a forum to watch him be intimate with a partner, taunting him on twitter for everyone to see, including tweeting about it 38 times or more (I misread- Clementi checked Ravi's feed 38 times). No, he was not expressing an unpopular opinion, he was targeting Clementi and doing so viciously.
Did Ravi want Clementi to kill himself? I have no way of knowing, and neither does anyone else.
Which is precisely why he was never charged for that.