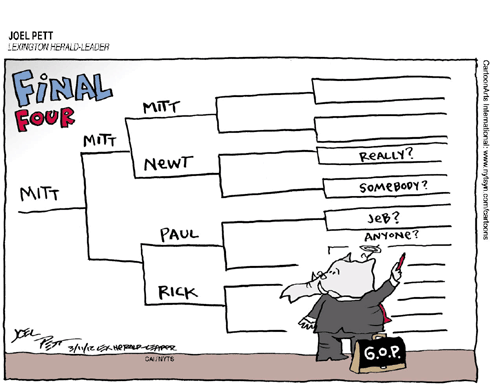 (Joel Pett via GoComics.com)
__
Mr. Pierce at Esquire sums up this evening's politico-tainment:
… The Romneybot is probably going to win fairly big in Illinois tonight. The shoeless gomer factor is pretty low there, even downstate, and there seem to be enough sensible Republicans there to notice that, really, this Republican party nominating process has reached the B.J. Hunnicutt Stage of its run. None of the jokes are funny any more. It's been on television far too long for its own good. The problem that the Republicans have, of course, is that there is nobody in the party with the authority to pull the plug. All these stories about how "someone" is going to have to tell Newt Gingrich that it's time to go back to the lecture circuit are hilarious. At what point in his political career has anybody been able to tell the Definer Of Civilization's Rules And Leader (Perhaps) Of The Civilizing Forces anything? Santorum will continue as long as he has the money, and as long as there's a market for one anti-Romney, which will be until the year 2525, if current trends continue. The Republican National Committee designed a madhouse of a nominating process and then completely lost control of it. And the presumed nominee, and presumptive leader of the party, is deeply distrusted by the party he is presumed to lead. The basic problem with Republican politics this year — and it is one unique in my experience — is that there simply is nobody in charge of it. Nobody's "fighting over the wheel" because a bunch of nutty folks from steerage took control of the ship in 2010 and threw the wheel overboard. "A sizable number" of Americans are catching on to this basic fact. Illinois could be the first sign that the Republicans intend to do anything about that.
One can but hope, she said piously. Here is a thread for small personal triumphs, random plaints, questions about the eternal verities ("What can be made for supper from the four frig food groups — leftover, frozen, takeout, and spoiled?"), and the ever-popular airing of grievances.