The other thing that is super nice about spring here is that there are so few bugs and the temperature is perfect, so I can leave the back door open all day. Tunch has responded by lounging on the back deck all evening: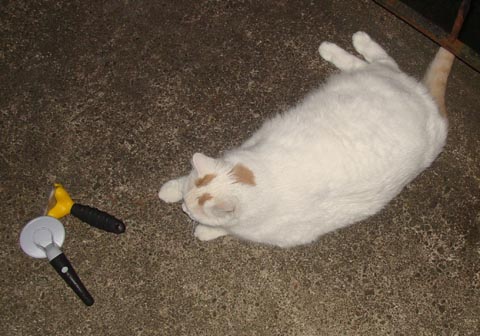 Of all the animals, I think Tunch loves the fence the most. He was an indoor cat for nine years, now he has this great outdoors to explore. I love watching him saunter around the backyard, thinking he is all stealthy. He sort of moves like a regular stealthy cat, but it just comes off all wrong given his girth. Think Kirstie Alley on DWTS.
My parents are on vacation again down at Isle of Palms in South Carolina. They and some folks they have known for 40 years rented the house for 10 days, and have been down there relaxing, eating, and taking all the collective beasts to the dog parks. I tried to call mom to talk to her tonight, but they were all caught up in a very competitive game of Cranium. I'm betting that was lots of fun- a bunch of 70 year old nascent Alzheimer's patients doing brain teasers. Two questions could probably provide enough entertainment for a week. I said that to my mother and she told me to go to hell.