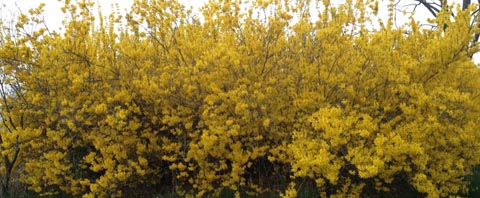 Had to do some shopping, so I found myself driving through the country, and snapped this beautiful pic. Wish you could see how yellow they were in real life, because this picture does not do it justice.
At any rate, after spending some time at the garden center, picking up some supplies and some pansies, I was driving home and caught the weekly EJ Dionne/David Brooks wankfest on NPR. During the discussion, the Ryan plan came up, and Brooks repeatedly called it a serious plan and that it took us off the path to fiscal calamity, and then basically lied about it not ending government as we know it. After the second or third utterance of "serious," I briefly considered plowing my car into the cement base of a highway underpass to make the pain stop once and for all.
Dionne did a good job swatting down Bobo's nonsense, and Brooks then dutifully ignored him and called it a serious plan again.