Daisy does not like baths.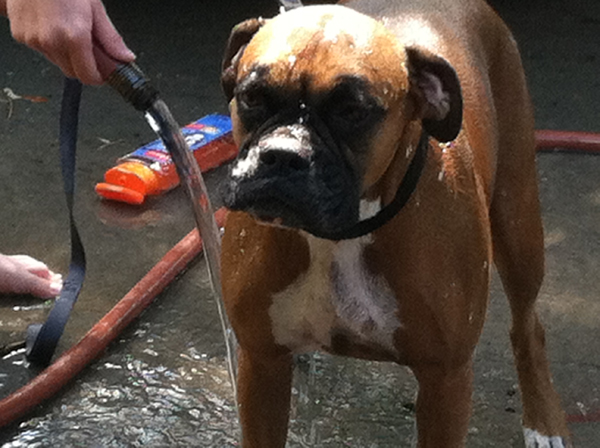 At all.
Last night I took a pack of screechy teens to see "The Hunger Games." Meh. I had read the book, and I kept wondering how much sense it would have made to someone who hadn't read it. Fortunately, it seems most in the packed theater had read it, so the lack of character development wasn't an issue. Plus, there were hawttt boys.
Today I've got to take the kiddo to the ball field for team pictures, then to an away game, where I must keep score. I'm getting pretty good at it, though there are some who question my tentativeness about assigning errors. I say unless it's a really boneheaded play, the kid doesn't get an error. Those who disagree are free to keep their own scorecards.
Jesus God, Newt Gingrich is a despicable motherfucker. If I were Queen of the World, I would order him lightly scored with rusty pitchforks, dipped in sulfuric acid, rolled in a bed of broken light bulbs, stuffed into a cannon and fired into a toxic waste dump.
What are y'all up to today?
Open thread.