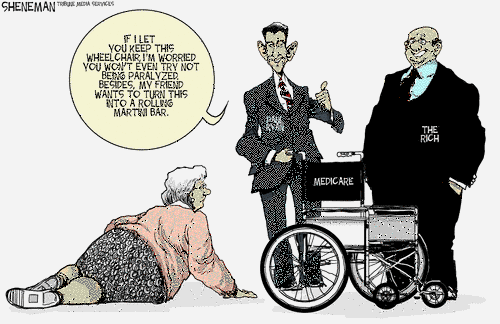 (Drew Sheneman via GoComics.com)
__
The Supreme Court's review of the Affordable Care Act is such a hot ticket, according to the NYTimes, people have been waiting in line since Friday. The lawyers involved present themselves as having "trained for a three-day marathon":
The justices have broken the case into four discrete issues, scheduling a separate session for each, for a total of six hours, the most in one case in more than 40 years. Mr. Clement, like his principal adversary, Solicitor General Donald B. Verrilli Jr., will be arguing three times.
__
Walter Dellinger, who was acting solicitor general in the Clinton administration, said he was worried about "the enormous endurance challenge this will be for Verrilli and Clement." Mr. Dellinger, who has argued more than 20 cases in the Supreme Court, said making even a single 30-minute presentation is draining…
__
The central issue in the case, to be argued for two hours on Tuesday, is whether the individual mandate is constitutional.
__
But first, on Monday, the justices will hear 90 minutes of arguments from three lawyers about whether they should be hearing the case at all….
__
For Wednesday, the court has scheduled a double feature. In the morning, the justices will hear 90 minutes of arguments about what should happen if they strike down the mandate. The federal appeals court in Atlanta, whose decision is under review, ruled that it was possible to remove just the mandate and leave the balance of the law intact.
__
On Wednesday afternoon, the two main lawyers, Mr. Verrilli and Mr. Clement, will return for a one-hour encore, this time to argue over whether Congress exceeded its constitutional authority in expanding the eligibility and coverage thresholds that states must adopt to remain eligible for Medicaid, the federal-state program that provides health care to poor and disabled people…
But — and I assume this is good news for the Obama Administration — the major insurance companies are already preparing for the ongoing implementation of the ACA:
… It's not that health insurers want to bet big that the court will uphold the Affordable Care Act. It's that they can't afford not to. It will take at least several months and lots of resources for insurers to prepare to implement key elements of the law, which includes a controversial requirement that most Americans have health insurance by 2014.
__
WellPoint Inc., the nation's second-largest health insurer with 34 million members, has said it will spend $100 million this year on technology upgrades to meet the law's requirements. Aetna Inc., third-largest U.S. health insurer with more than 18 million members, says it expects to spend $50 million this year in part to upgrade software and computers.
__
Even smaller insurers like Blue Cross Blue Shield of Michigan, a private company with 4 million members, are spending big. This year, the company, which employs 7,000 people, plans to add about 100 employees and spend nearly $20 million.
__
The law calls for big changes in the number of people receiving coverage, what must be covered and who pays for it, so insurers that don't prepare until after the court's ruling, expected in late June, will run short on time, said Kirk Roy, vice president of national health reform with Blue Cross Blue Shield of Michigan.
__
"Waiting is too big a business risk for any insurer," said Roy, who was promoted to his current job shortly after the overhaul became law in 2010…
Looks like the ACA is already serving as a pretty fair jobs program, while Ryan's (Pantry) Raiders in the GOP jiggit around juggling imaginary numbers for the year 2024…
Apart from keeping an eye on Justice Roberts, what's on the agenda for the start of the week?