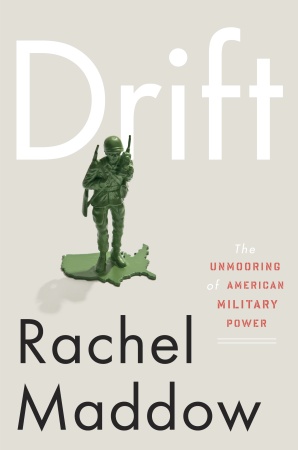 Dr. Maddow's central premise is that the nature of the American national security apparatus, and particularly the manner by which the nation goes to war and fights wars has, in the latter half of the 20th century, diverted from the original vision of the founders, to the detriment of the country and our democratic experiment.  It's a premise with which I agree wholeheartedly, and in Drift, The Unmooring of American Military Power, I have finally found a cogent, concise articulation of that belief, as well as a prescription to cure the sick.  In their zeal to limit executive power, the founders particularly granted power to declare war to the legislative branch, as they thought that the political and emotional need of the executive in particular, and the nation as  whole, would prove too tempting were it easily doable.  She briefly discusses the end of the war in Viet Nam, and she notes the work of General Creighton Abrams, who had commanded US forces in Viet Nam and later, from 1972 to his death in 1974 served as Army Chief of Staff and restructured the Army to force subsequent presidents and congresses to have to deal with the political fallout of war by making it impossible to go to war without using the Reserve and National Guard forces and thereby making members of congress more directly involved.  It was one thing for President Johnson to keep raising the number of draftees, and thereby killing and maiming hometown boys one by one, but another thing entirely for a congressman to contemplate twenty boys from his district being killed in one day.
She discusses briefly how President Nixon and Secretary of State Kissinger despised General Abrams "he had his chance to win a war and he blew it" and how Nixon and his lackeys, including his White House chief of staff, Donald Rumsfeld, and later Ford's chief of staff Dick Cheney (Yes, you're going to see these names over and over again,)  held the position that "when the president does something, something on national security, that means it's not illegal."
She goes deeply into the weeds on the Reagan presidency, and his obsession with using military force, and operating foreign relations unchecked by congressional oversight.  She gives a point by point recitation of the major events of the Iran-Contra affair and describes the intellectual underpinnings, first articulated by then-Attorney General Edwin Meese in his legal contortionist act to exonerate the President, of the theory of the Unitary Executive and the first defense of that theory by then-congressman Dick Cheney of Wyoming.  You would be forgiven if, by the middle of the book, you start to read it as a bill of indictment against the Republican party's leading lights of the last forty years with a few snarky sideways comments.  Even as Maddow doesn't write as a polemicist but with a cool, simple factual walk-through of events, you still can't help but feel your anger start to rise a bit at what they've done.  And the book is better and more effective for the simple, and at times light touch.
Reading Drift, I am left with the feeling that nobody gets out clean.  In the run-up to the first Iraq war, congress abrogated their responsibility by first not fighting President Bush hard enough on the issue of war powers and later by kicking the can down the road to after the start of hostilities.  As one unnamed Republican senator said "a lot of people here want it both ways.  If it works, they want to be with the president.  If not, they want to be against him."  She continues with the rise of the contractors, a necessity created by Dick Cheney's post-cold war/Desert Storm restructuring of the military in such a way that major logistical and support functions that had been by uniformed personnel were eliminated from the end strength as a way to preserve pure combat power.  If the service top line is 400,000 personnel, better to get rid of the people who only wash laundry, and only during war, and keep those slots filled with riflemen.  Less money spent in peacetime that way, and only spending money during war.  That was the promise, anyway.  The result was that Presidents Clinton, and Bush II used contracting to replace people.  Contractors may be horrendously expensive when you use them, but they are outside oversight, and they finally free the executive from that last fetter on the use of military power, General Abrams' force structure. The DoD isn't responsible for what employees of a contractor do.  And the DoD doesn't have to explain anything when contractor employees are killed and wounded either, for that matter.
Drift is at its best when it describes the macro trends that have really shaped the American way of war in the 20th and 21st centuries, and the politics that both created and responded to those pressures.  Where it falls down is when Maddow gets into the details of military doctrine, operations, and policy.  Her discussion of FM 3-24, Counterinsurgency, seems written by somebody who doesn't really understand what doctrine is, or how it is developed and used.  Similarly, her discussion of the nuclear weapons complex, particularly the US Air Force's issues with the safety and accountability of nuclear weapons and components is limited by either an inability or an unwillingness to get deep into the subject.  Either of these subjects could themselves occupy the full 275 pages of the book, but as Maddow is not a specialist in either field, one can forgive the glossing-over, especially as she gets the salient points, that the Army cannot properly forge doctrine in a vacuum of civilian leadership, and that we have far too many nuclear warheads and delivery systems for any remotely realistic threat, correct.  Her epilogue is perhaps the most important piece of writing on civil-military relations of the last ten years.
There was only one mistake of fact that jumped out at me, and it seems a fact checker/copy editor function–pg 111, "Those Marines on his national security staff–Bud McFarlane, John Poindexter, and Oliver North…"  John Poindexter was a Rear Admiral in the US Navy.  A couple of pages later, she again refers to Poindexter as a Marine "The Attorney General [Meese] threw the Marines–McFarlane, North, and John Poindexter–to the wolves."
Overall, I thought that it was exceptional.  As I said earlier, nobody gets out clean.  She takes the Obama administration to task for the growing use of drone aircraft and CIA operations that are not subject to congressional scrutiny.  The implication for us all is that we, all of us, are responsible for how our country's military is used in this world, how it is constructed, trained, equipped, managed, deployed, and most especially how and when it fights wars for this country.
Also, I too have an autographed copy to give away.  I haven't decided how to do that yet.  Probably will start another thread just like Anne Laurie's giveaway.  That won't happen until tomorrow, at the earliest.
Drift Kindle edition
http://www.amazon.com/Drift-Unmooring-American-Military-ebook/dp/B005BUG6T8/ref=sr_1_3?ie=UTF8&qid=1332854823&sr=8-3
Drift NOOK book
http://www.barnesandnoble.com/w/drift-rachel-maddow/1104511240?ean=9780307461001&itm=1&usri=drift+rachel+maddow