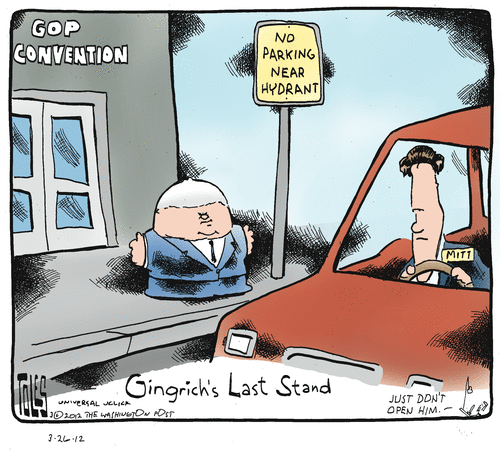 (Tom Toles via GoComics.com)
Newt Gingrich's sugar daddy says he's putting his wallet away:
Seventy-eight-year-old billionaire casino magnate Sheldon Adelson has pumped millions upon millions of dollars into New Gingrich's campaign by way of the Winning Our Future super PAC, but it appears he's finally through writing those checks. Adelson spoke informally (but on video) to a small group yesterday at his hotel and casino, The Venetian, and said he believes Gingrich is "at the end of his line" with respect to his chances of winning the GOP nomination. Apparently Adelson has spent enough time in a casino to figure out odds…
But I prefer Mr. Pierce's opinion — Fight, Newt, Fight!:
It is not often that I rise to the defense of N. Leroy Gingrich, Definer Of Civilization's Rules And Leader (Perhaps) Of The Civilizing Forces, but I think if the man wants to keep running for president, he should keep running for president. I think he should ignore the people telling him to get out so the party can line itself up behind the Romneybot 2.0, because the party plainly doesn't want to do that. Willard Romney is not unpopular because Newt Gingrich is still running against him. He is unpopular because, to anyone not in Willard Romney's income ionosphere, he is an unprincipled boor who speaks as though he learned English backwards and 20 minutes ago…
__
… The Republican fixers want Gingrich out so that they can get busy creating a meretricious narrative about Romney that they can pitch to as many of the gullible rubes as will buy it. The less time they have to do that, the better. (Making out of Mitt Romney a plausible human being is not a task that can be accomplished quickly.) So Newt should stay in just to make that job harder because, really, what does he owe to any of these guys? Say what you will about his megalomanical ideas, he at least expresses them in a way that doesn't make you feel you should be trimming his hedge or something.
Republican infighting always makes me feel just a little more optimistic. Apart from GOP Zombie Warz, what's on the agenda this evening?