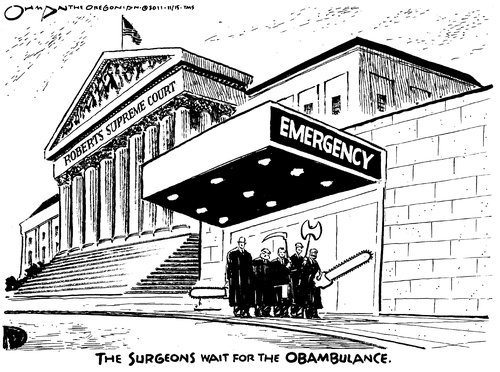 (Jack Ohman via GoComics.com)
__
The estimable Dahlia Lithwick is not impressed by the SCOTUS spectacle:
It bears pointing out that for all of the six-plus hours of Supreme Court oral argument on the Affordable Care Act, the titans of the legal world—congressmen, appellate litigators, and heads of major national advocacy groups—were forced to surrender their cell phones, newspapers, and personal assistants in order to sit in perfect silence in the Supreme Court chambers. If you were to strip them of the sober gray suits and swap in a bowl of lentils, the last three days could well represent the legal world's highest powered silent meditation retreat. Some of these folks haven't been quiet for two consecutive waking hours since the 1960s.
__
The justices are anything but quiet, and as the two arguments roll on—90 minutes this morning on whether the whole act must fall if the individual mandate falls and almost 90 minutes this afternoon on the constitutionality of the health care law's Medicaid expansion—the justices start to become almost punchy with all the melodrama. At one point during the morning session, Justice Antonin Scalia, reading from an opinion in a different case, lapses into Latin. Later Justice Stephen Breyer attempts to order the parties into a settlement conference to determine which provisions of the health care law should be allowed to survive. Justices Scalia and Elena Kagan bicker quietly over how much work their respective clerks will need to do in order to sever the mandate; and super-lawyer Paul Clement, arguing on behalf of the 26 states that want the court to strike down the law in its entirety, suggests that the same U.S. Congress that can't confirm a magistrate judge can vote to reauthorize the surviving bill and "in a couple of days, it won't be a big deal."
__
In the afternoon session, Justice Scalia goes on a long, illuminating discursion about what he would do if forced to choose between his own life and that of his wife. Justice Breyer makes an impassioned plea for the infinite virtues of administrative law. And Solicitor General Donald Verrilli, offered 15 extra minutes by Chief Justice John Roberts to finish his argument defending the Medicaid expansion, snorts, "Lucky me."

In closing the same argument, Verrilli offers what I can only describe as a final day's prayer to the nine justices to preserve the health care bill because, as he puts it, with guaranteed health care, millions of Americans "will be unshackled from the disabilities that those diseases put on them and have the opportunity to enjoy the blessings of liberty." Then, with a gentle imprecation that the court recognize that Congress did in fact pass a bill, he says, "Maybe they were right, maybe they weren't, but this is something about which the people of the United States can deliberate and they can vote, and if they think it needs to be changed, they can change it."…
Amy Davidson at the New Yorker approaches outrage:
Here's where a person could lose just a little bit of patience with the Supreme Court: in the midst of an exchange with Deputy Solicitor Edwin Kneedler, Justice Antonin Scalia saw an obstacle he didn't like:

JUSTICE SCALIA: You really want us to go through these 2,700 pages?
(Laughter.)
__
JUSTICE SCALIA: And do you really expect the Court to do that? Or do you expect us to give this function to our law clerks?(Laughter.)
__
JUSTICE SCALIA: Is this not totally unrealistic? That we're going to go through this enormous bill item by item and decide each one?


The twenty-seven hundred pages make up the text of the Patients Protection and Affordable Care Act. Put aside, for the moment, the matter of the mandate and "severability" and "community ratings" and all the rest. If the Justices—or their clerks—need to read through a law to figure out whether it's constitutional, it shouldn't matter whether the law is twenty-seven pages or twenty-seven thousand (those numbers are divisible by nine, so they can split them up). Perhaps that's a civilian's view, and that's not how things work in the Court these days. (Scalia, in other comments, made it clear that he really didn't know what was in the law.) But it's a good bet that there are many, many Americans whose chronic illnesses or health crises have generated far more than twenty-seven hundred pieces of paper, from doctors and hospitals and labs and insurers and, in too many cases, ultimately from collection agencies. Even if you're covered, the broken state of the health-care system has meant hard work, and hardship, for millions of people.
Mr. Charles Pierce, as always, gets it right:
… His "originalism" was always a shuck, even if it was consistent, which it rarely was, and even if it was principled, which it never was. Bush v. Gore was proof enough of that. More often, it was just an excuse for Scalia to be an arrogant bully to the people appearing before him, and to the clients out in the world that those people were representing, most of whom were unworthy of the time that Scalia and his mighty mind had to devote to their petty little grievances. But at least, for a while, he actually tried to act like a judge in a democratic republic, and not the lost Medici pope. Reports pop up periodically that he's bored, that he's unsatisfied, that he knows he'll never be Chief, so he'd rather just chuck it all and go teach, and write, and flip off the occasional tabloid reporter. Now, though, it appears that the man has pretty much checked out without going through the formality of resigning from the bench.
And for those of us Americans fortunate enough to contemplate the possibility of escaping to a saner society in the Antipodes, the Moustache of Understanding has to go and spoil everything:
… Conservatives in Australia and New Zealand have also long accepted single-payer national health care systems. The Labor Party ruled New Zealand from 1999 to 2008, when it was replaced by the conservative National Party. During Labor's tenure, it passed legislation legalizing civil unions, giving prostitutes the same health and safety protections as other workers, and extending income subsidies for families with children, noted Jon Johansson, a political scientist at Victoria University of Wellington. While these moves were resisted by conservatives when in opposition, he said, they have "not tried to repeal any of them" now that they are in power…
__
"We also have compulsory voting," said Turnbull. You get fined if you don't vote. "In a voluntary voting system like yours, there is always the temptation to run hard on hot-button issues that will fire up the base and get them out to vote. In a compulsory voting system, your base has to vote — as does everyone else — and so the goal is to target the middle ground."
__
To be sure, conservatives out here have all the low-tax, free-market, free-trade, less-government instincts of their American colleagues, but it is tempered by the fact that campaign donations and lobbying are much more restricted.
Sorry about that, Aussies & New Zealanders. You should've locked the doors when you heard the MBA-babble drifting down the corridor at Customs like second-hand smoke from a particularly toxic cigar.