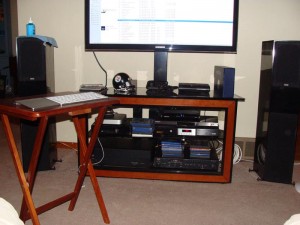 I have no idea if it was the intention of the Apple folks, but I just want to say that the greatest party device I have ever encountered this side of the condom is the Apple Mac Mini
. I have mine plugged into my tv and stereo in the living room, and I use it as my home base for all things Apple.
I got sick and tired of having these external hard drives attached to my MacBook Pro, having to always connect and disconnect, and I decided to bite the bullet and buy a Mac Mini for the living room to use as my "home base" for the laptop, the iPhone, and the iPad. I love it.
Right now, I have two 1 terabyte external hard drives connected to the mac mini, and that serves as my music and movie reserve for itunes and for my torrent streams from BitMeTv. It's perfect for everything. When I have a party, I just throw up the mac mini on one of the HDMI ports, and people use my itunes, my spotify account, or youtube, and basically can find whatever they want to listen to. It saves me hours of trying to find things for people, and I just put the wireless keyboard and magic trackpad in the middle of the room and the guests do all the music work. They love it too, and they just take turns choosing songs, and you don't have to do all the lp/cd changing to make music happen (for those of you who remember scratching your cd's and watching drunken idiots scrape a stylus across your lp).
Likewise, I have a device to channel all my streamed content, whether it be xfinity or the BitMeTV, the netflix, or whatever else.
Finally, and here is what I love the most- I have a home base for all my apple products. I just have everything sync directly, take advantage of the cloud technology, and my iphone, ipad, and macbook are always on the same sheet of music.
Having said all that, I still think my favorite thing is how it puts all the guests in control of the music and focused on relatively inexpensive wireless keyboard and trackpads, as opposed to mashing buttons on my amp or spilling drinks into my speakers.
So there you have that.