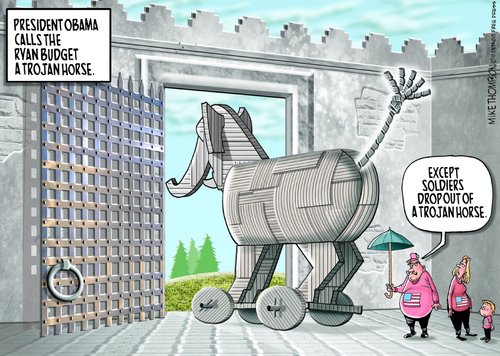 (Mike Thompson via GoComics.com)
__
Irredeemable WaPo jagoff Chris Cillizza on "Paul Ryan's Rapidly-Improving Vice-Presidential Prospects":
… In what was a defining speech of his 2012 reelection campaign, Obama repeatedly called out Ryan and Republicans for their "laughable" approach to deficit reduction, describing the budget plan put forward by the Wisconsin Republican as a "Trojan horse". Added Obama: "Disguised as deficit reduction plans, it is really an attempt to impose a radical vision on our country. It is thinly veiled social Darwinism."…
__
Knowing now that Obama is going to go all-out on the Ryan plan, it makes an increasing amount of sense for Romney to not only fully embrace the plan (as he has done) but to fully embrace the man too.
__
It's not hard to imagine this thought in Romney headquarters this morning: You want to make the Ryan plan the centerpiece of this campaign? Fine. Game on. That's a fight we want.
__
If you believe — and you should — that the dominant issue of this campaign is over which party has the best plan to put the country on sound financial footing then there's no better way for Romney to drive a contrast with Obama than to put the face of the conservative approach to budgeting on the national ticket. (It doesn't hurt that Ryan is telegenic, beloved by tea party conservatives and from a swing state like Wisconsin.)…
By all means, Republican base-rs, embrace the Zombie-Eyed Granny-Starver! Make this Randroid phantasy the public face of your party! Cillizza actually quotes Ezra Klein's wonkish dissection of the way Ryan's budget undermines Romney's careful all-things-to-all-voters "moderation"… and then manages to proclaim this as a positive for the general election.
I think former theatre critic Frank Rich, at NYMag's Daily Intel, has a sounder understanding of the reality-based community:
The president called the budget "social Darwinism" — is this a strategy the Democrats can keep up throughout the general election?
"Social Darwinism" that budget clearly is, for it enshrines two principles: More tax cuts for the rich, and the gutting of programs that might benefit those who have not reached the pinnacle of economic evolution. Not just Medicare and Medicaid, but Head Start, Pell grants, and federal regulation of toxins as various as derivatives on Wall Street and "pink slime" in food. The House budget is a Pandora's box of potential horrors that Democrats can roll out throughout 2012. And that political task is made easier by the fact that the Republicans, including Romney, are leaving the details blank, allowing voters (with Democratic prodding) to let their imaginations and fears run riot. Romney actually told The Weekly Standard that he would not "give you a list right now" of what federal departments and programs he would eliminate as President — and he said this just two weeks before he had the audacity to accuse Obama of playing "hide-and-seek." Freud had a term for this — projection…
__
Will it help or hurt Obama that the GOP budget's author, Paul Ryan, is a relative newcomer to the national stage? Even Americans who know his name probably only have a vague idea of who he is other than a "Wisconsin budget wonk."
Ryan is too dull to serve as a political piñata — he's "9-9-9" without the charisma. Should Romney pick him for Veep, as Washington's current "whispering" has it, the GOP will at least have an all-white-male ticket in perfect sync with the party's demographics. The bland leading the bland.
__
Isn't that precisely why Romney shouldn't choose Ryan?
You'd think. Then again, it's hard to imagine how any vice-presidential choice could undo his and his party's poor standing with two minorities, African-Americans and Hispanics, and one majority, women. This week Romney became clenched, awkward, and terse when asked to expound on the Mormon church's egregious and tardy history in awarding blacks equal status to whites. He has endorsed Arizona's Draconian anti-immigration law, which would punish Latinos for the crime of acting or looking "Latino," and he has given the nation the concept of "self-deportation," which some Hispanic voters might rightfully mistake for "self-flagellation," or perhaps "self-annihilation." Romney has also endorsed the so-called Blunt Amendment, and called for the elimination of Title X and Planned Parenthood funding — which would collectively deny poor and working women alike coverage not just for contraception but for cancer screening, among other health-care essentials…
It's not hard to understand why this is latest (free!) bumper sticker from Democrats.org …