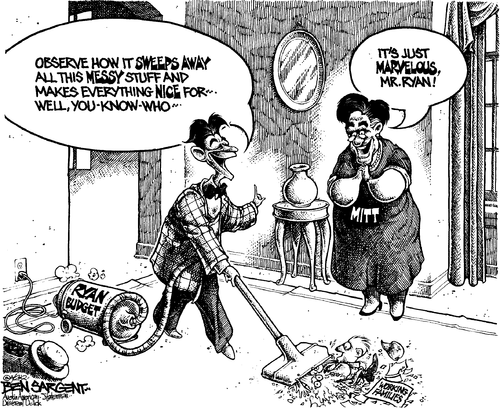 (Ben Sargent via GoComics.com)
__
I can't stop, because they won't. The Economist's Will Wilkinson goes gooey for the Zombie-Eyed Granny Starver:
… Unfortunately for Mr Obama, Mr Ryan is no Newt Gingrich. He is not a pompous, self-aggrandizing bloviator in the grand southern style. He's a likeable, hardworking, detail-oriented, Midwestern wonk who just happens to be something of a looker. Moreover, Mr Ryan's conservatism largely eschews the odious cultural politics of social conservatives and focuses instead on a pragmatic, fiscally conservative market-oriented meliorism, the appeal of which is by no means limited to the hard right. He's an attractive politician offering an attractive comprehensive alternative to the administration's approach. And that's why it is a matter of urgent political necessity for Mr Obama to try to smear Mr Ryan's budget as a recipe for brutal, devil-take-the-hindmost injustice…
__
Mr Ryan is ready and able to debate the substance of public policy in way only a few members of congress, left or right, can match. He's become a de facto leader of the GOP not because he's a big idea man in the Gingrich mold, but rather because he's extraordinarily capable of approaching America's big-ticket structural problems with coherent, detailed policy proposals. After Mr Obama's Tuesday speech, Mr Ryan's office released a sharp, systematic rebuttal on Facebook. You don't have to agree with Mr Ryan's politics to see the substance here. Although he is at least Mr Ryan's equal as a debater and policy wonk, Mr Obama has not and will not win every fight he picks with him. Mr Obama seems to be gambling on the assumption he is safely encamped on the moral high ground, and can therefore lose a good few battles and nevertheless win the war…
First off, humectified much, W.W.? If Ryan-mania doesn't blow over like every other GOP fad this season, Rick "Sarah Starbursts" Lowrey may lose the Most Transparently Embarrassing Media Moment award he stole from Chris "Dubya's flightsuit package sends a tingle up my leg" Matthews. Secondly, because I am old enough to remember stuff that happened even before 2001, I do not believe the words "sharp, systematic rebuttal" and "Facebook" should be used in the same sentence. As for content, let's defer to a real economist, discussing "The Gullible Center":
The Ryan cult was very much on display last week, after President Obama said the obvious: the latest Republican budget proposal, a proposal that Mitt Romney has avidly embraced, is a "Trojan horse" — that is, it is essentially a fraud. "Disguised as deficit reduction plans, it is really an attempt to impose a radical vision on our country."
__
The reaction from many commentators was a howl of outrage. The president was being rude; he was being partisan; he was being a big meanie. Yet what he said about the Ryan proposal was completely accurate.
__
Actually, there are many problems with that proposal. But you can get the gist if you understand two numbers: $4.6 trillion and 14 million.
__
Of these, $4.6 trillion is the revenue cost over the next decade of the tax cuts embodied in the plan, as estimated by the nonpartisan Tax Policy Center. These cuts — which are, by the way, cuts over and above those involved in making the Bush tax cuts permanent — would disproportionately benefit the wealthy, with the average member of the top 1 percent receiving a tax break of $238,000 a year…
__
Meanwhile, 14 million is a minimum estimate of the number of Americans who would lose health insurance under Mr. Ryan's proposed cuts in Medicaid; estimates by the Urban Institute actually put the number at between 14 million and 27 million.
__
So the proposal is exactly as President Obama described it: a proposal to deny health care (and many other essentials) to millions of Americans, while lavishing tax cuts on corporations and the wealthy — all while failing to reduce the budget deficit, unless you believe in Mr. Ryan's secret revenue sauce. So why are centrists rising to Mr. Ryan's defense?
My personal response would be "Because those self-styled 'centrists' are either morons or liars, or both", but you can check the link Professor Krugman's sober, reasoned, adult conclusions.