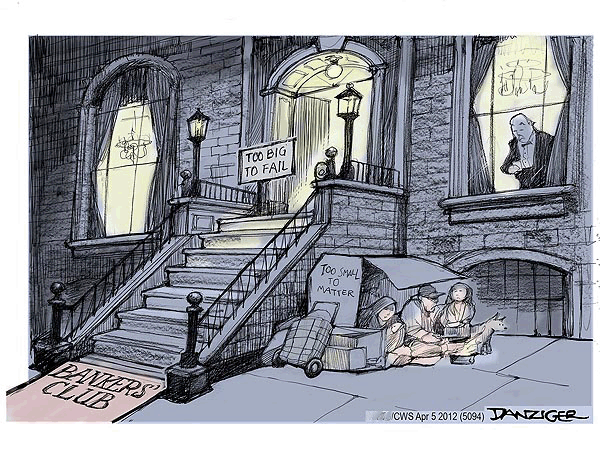 (Jeff Danziger's website)
__
Sometimes I'm just glad to be reminded that not everybody's a sociopathic arsehole. The always excellent Mr. Pierce, of Esquire, has really been on fire this week:
…It's becoming quite clear that, by adopting a more populist theme since the president's speech in Kansas last December, the president's campaign has managed to shift the economic discussion in the country away from Wall Street and in the general direction of Zuccotti Park. (Shame those folks didn't have a "coherent agenda" with which to move the dialogue.) That has resulted in a decidedly upward trend in the president's polling numbers on economic issues, particularly those involving the continued economic survival of the middle class. He's even leading Romney on "handling taxes," an issue on which the president may be in the process of changing the argument from "lazy poor people are stealing your money" to "greedy rich people are stealing the country."…
__
When the zombie-eyed granny-starver meeps about the Buffett Rule as "pixie dust" — and this from a man who has based his "budget" on mathematics apparently designed by the Keebler elves — he is placing himself and his party in the path of what may be a powerful movement in the opposite direction. Ever since Wall Street trashed the world economy and stole what was left, the inchoate public rage always has had as its source a vaguely defined conviction that somebody, somewhere has cheated the rest of us out of our country. The political fight has been over who to blame for it. First, the Tea Party decided to blame Government, with a strong and familiar old counter-melody about lazy poor people. That's a spent force right now. The zombie-eyed granny-starver is yammering so desperately about "class warfare." The people who've paid for his political career are afraid that they just might lose one.
__
So, go ahead, Willard. Pick him. Let him go out, day after day, and sell his bulked-up version of all the policies that threw the country into a ditch in the first place. Make him the economic face of your ticket. Let the country look into his zombie eyes and see all the grannies starving therein.
***********
Apart from fighting the good fight, what's on the agenda for the evening?