Well, kind of. This facility — with the darling little Poulet Chalet surrounded by a spacious, well-protected and partially shaded chicken run — is the future home of my seven hens: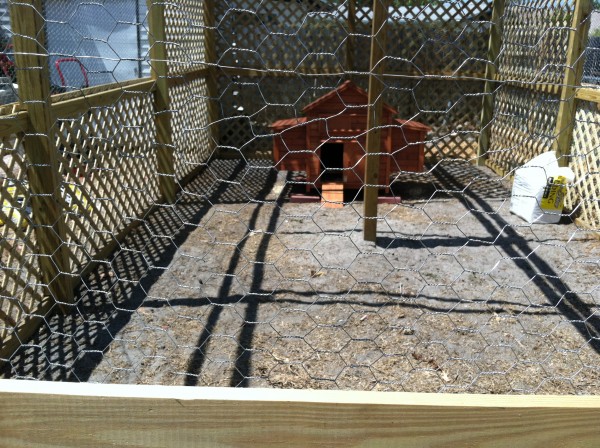 Right now, they are living in my office. Until their feathers come in. And you know what? Animals are gross!
Whoever it was who said when my adorable little chicks got older, they'd suddenly exude clouds of dust and feathers? You were right, my friend. There ain't enough canned air at Staples to blow all the crap out of my electronics. And speaking of crap, when I went in to check on the chickens awhile ago, I noticed one of them had taken a fresh dump right on the feeder.
After delivering a short lecture on etiquette and basic table manners, I whisked the offending barnyard equipment out of the room to wash it. The chicken turd was fresh enough to slide off the plastic surface, and my two boxer dogs leapt over to lick it up the moment it hit the floor.
Jesus H. Christ, I'm catatonic with disgust. Can dogs get salmonella? This isn't as bad as the present Tunch gave John last night, but fuck, animals are gross…
[X-posted at
Rumproast
]