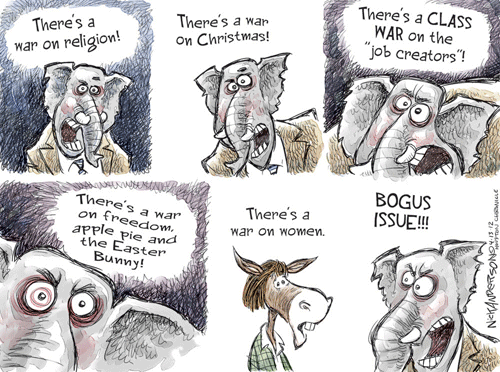 (Nick Anderson via GoComics.com)
__
Via Greg Sargent, Maeve Reston of the LATimes points out that cutely sloganed travel mugs are not going to sway many female voters to Romney's camp:
… Romney has at times boxed himself in. He has pounded Obama for job losses among women during his tenure, yet rarely acknowledged that many of those cuts were in government jobs that would be sliced further under his proposals, which would shrink government employment by 10%.
__
Though middle-of-the-road female voters tend to be more concerned than conservative women about maintaining the nation's social safety net and expanding healthcare access, Romney has vowed to repeal Obama's healthcare law, rein in the growth of programs like Medicare and get rid of government aid to Planned Parenthood. He rarely touts his own efforts to expand access to healthcare in Massachusetts, because the program has become such a liability for him among Republican voters…
__
White House spokesman Jay Carney hinted at that strategy Thursday when asked to address Democratic strategist Hilary Rosen's comment that Ann Romney, as a stay-at-home mother, shouldn't be advising her husband on the struggles of working women. Like Obama's top campaign advisors, Carney was critical of Rosen's comments, and eager to move on to the more substantive policy debate.
__
"We should also focus on where we disagree," Carney said, ticking off a series of Republican positions that the White House argues will hurt women. He noted that the Republican budget, which Romney has endorsed, would cut funding for programs that support low-income women and children, including Head Start, the Women, Infants and Children program, and supplemental nutritional aid for pregnant mothers…
And for all that noise & effort, Romney's well-publicized duck behind his wife's mommy-skirts was only the second most pathetic family-related pandering by a GOP candidate this week!
***********
Apart from Republicans seeking their natural level (subterranean), what's on the agenda for the weekend?