I grew up in Berkeley, California.  I've watched the Golden Gate Bay Bridge* in every season, in every weather.  I have never seen anything like this. (Copyrighted photo at the link.  Well worth a click, even if, horribile dictu,**it leads to the Daily Mail.)
Perhaps an open thread might gratify?
*I actually do know the difference.  I could see the Bay Bridge, but not the Golden Gate, from the house in which I grew up in Claremont Canyon.  But +3 (bourbon *2 plus Cotes du Rhone), one's fingers can do the talking with no help from the brain. Apologies all….
**Absolve me, Magistra Small.  The sins I've committed through crap Latiny are none of your doing, oh greatest of my high school teachers.)
Bonus pic: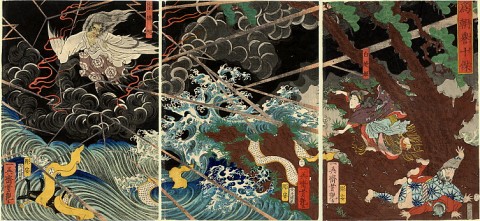 Image: Yoshitsuya Ichieisai, The Lightning Bolt, c. 1865.