We made some Obama organizing calls last Tuesday night, before pundit-gate, so I'll go ahead and give you my take on the war on women because I haven't seen it anywhere. Maybe I'm alone in this, who knows.
We had five callers Tuesday. Four were women. All of the women mentioned the war on women. We were all smiling benevolently and constantly at this guy, too, in a mildly creepy way that might have made him uncomfortable, because, you know, he's helping us. He was not actually there to do that, help women win the the war on women, specifically. For all I know he came because he's concerned about marginal tax rates but we just collectively decided he was there for us: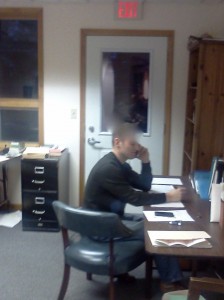 I think the response to the onslaught of commands targeted at women was one of those things that bubble up. It had the slow-build feel to me of authentic anger that comes from ordinary people, slowly but surely. That's why it was so heartening (and really interesting) to watch it develop, here locally, on the site and elsewhere. In purely practical terms, I think the state-by-state nature of the thing helped. Women were watching this crazy single-minded focus in state after state after state, where they live, for close to two years. When it blew up nationally, with Komen and then Obama versus the council of clerics and Rush Limbaugh, they, we, a lot of us, were already halfway there. I know that Democrats and political pros saw it and named it and pushed it, I recognize all that, but I think that was a collateral assist to something authentic that was actually happening "on the ground". Too, female congressional Democrats are constantly talking about these issues, and they're usually completely ignored. This was different.
There are some comparisons that fit, I think. One that comes to mind is Issue Two in Ohio, where a really massive majority rejected gutting collective bargaining. Unions ran a great logistical campaign, but all they did is focus what was already there. That's not nothing, what unions did, it doesn't matter how many grim and determined people one has if they don't have a path to translate that into something productive, but the union organizing and spending on ads was tapping into what was there. I passed petitions and held events, but I wasn't doing any persuading. I was quite literally just collecting signatures and holding events.
The Culture of Corruption (2006) was another one that felt this way to me. The GOP Congress that year was really corrupt, and people really did know that. The state issue here in Ohio, the thing that bubbled up from below, was that the state-level Republicans were ALSO incredibly corrupt in 2006. By the time Culture of Corruption was national, big majorities here were wholly convinced. National Democrats named and pushed something that already existed.
These issues had a nice, us against them, underground feel to me, talking to people here. It's like there's this "national conversation" (everyone hates unions, rightfully, because everyone knows unions suck; women are whiny sluts and most people will side with the bishops; Tom Delay isn't THAT corrupt, both sides do it) and then there's this whole other conversation going on. I love when that happens, because those issues are ours, they belong to us, if only for the time before the professionals grab them and frame them. When that happens, when we become pundit-fodder, they're all but proclaiming that hostilities have ended and they're pushing us back into some boring, comfortable groove that they love like The Mommy Wars, something safe and familiar, because, Jesus, talking about mandated trans-vaginal ultrasounds and aspirin between our legs is uncomfortable. That's a little too…real. It couldn't last.
The war on women was over for political media the moment Mitt Romney's handlers came up with a strategy, and Ann Romney and professional pundits then began discussing, framing, defining and then redefining the issue. They're done with ordinary women and what I believe was our authentic anger on this. It's now in the hands of the pros and it will be put into context and watered down and explained away. I think it was inevitable. It was just a matter of time and the right opportunity. It doesn't necessarily mean the authentic ground-level energy goes away, but I was still sad to see it happen.