North Carolina Rep. Virginia Foxx went on convicted felon G. Gordon Liddy's wingnut talk radio show last week to denounce all these students and recent college grads who are bitching about their student loans:
I went through school, I worked my way through, it took me seven years, I never borrowed a dime of money. He borrowed a little bit because we both were totally on our own when we went to college, totally. […] I have very little tolerance for people who tell me that they graduate with $200,000 of debt or even $80,000 of debt because there's no reason for that. We live in an opportunity society and people are forgetting that. I remind folks all the time that the Declaration of Independence says "life, liberty, and the pursuit of happiness." You don't have it dumped in your lap.
Of course, the expense today's students incur is a bit more steep than the cost of obtaining a Bachelor of Science in Dinosaur Husbandry during Foxx's youth, even spread out across seven years. How much more? It's hard to do a direct comparison since not all of the chiseled stone tablets used to record educational expenses in Foxx's day have been digitalized. But here's a chart that illustrates how tuition costs have risen since 1985: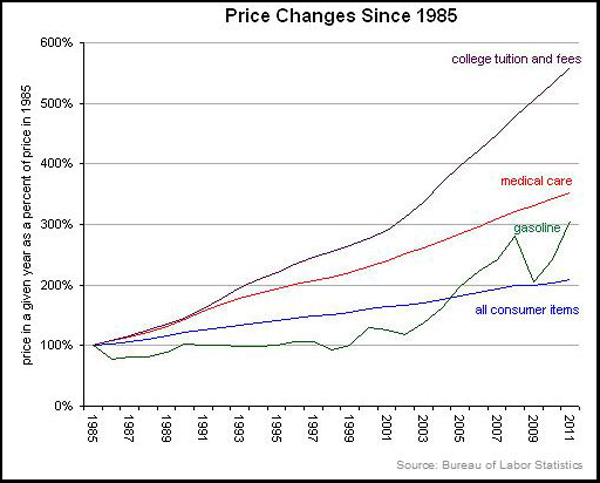 Could a near 600% increase have something to do with ballooning student indebtedness? Possibly! Here's the punchline: Foxx chairs the House Subcommittee on Higher Education. Hahahaha!
[X-posted at
Rumproast
]