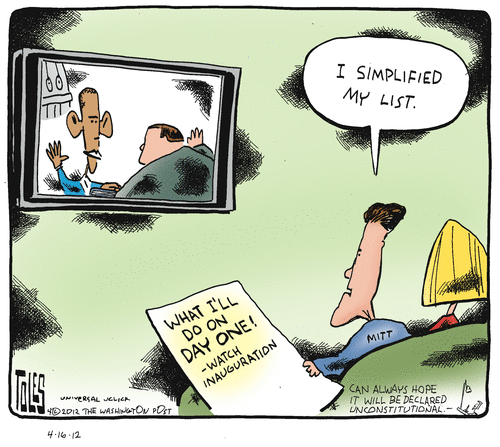 (Tom Toles via GoComics.com)
__
I wish that could be guaranteed, because this… fekking… guy! Paul Krugman talks about "cannibalizing the future":
One general rule of modern politics is that the people who talk most about future generations — who go around solemnly declaring that we're burdening our children with debt — are, in practice, the people most eager to sacrifice our future for short-term political gain. You can see that principle at work in the House Republican budget, which starts with dire warnings about the evils of deficits, then calls for tax cuts that would make the deficit even bigger, offset only by the claim to have a secret plan to make up for the revenue losses somehow or other…
Also among these political cannibals would be Willard "Mitt" Romney, who reassures his real constituents, the donors, per NYMag's Brett Smiley:
Mitt Romney spoke to deep-pocketed supporters at a private estate in Palm Beach, Florida on Sunday night, and from a public sidewalk outside, reporters were able to overhear specifics on tax deductions he would use to offset the 20-percent income-tax cut he's proposed for all taxpayers. At least publicly, Romney has to this point discussed his plan only in general terms. "I'm going to probably eliminate for high-income people the second-home mortgage deduction," Romney reportedly told the crowd in a backyard…
__
According to the Wall Street Journal, Romney also said he would likely eliminate the state income-tax deduction and state property-tax deduction.
__
In addition, the presumptive Republican nominee said he would seek to make cuts in the Department of Education and the Department of Housing and Urban Development.
__
"I'm going to take a lot of departments in Washington, and agencies, and combine them," Romney said. "Some eliminate, but I'm probably not going to lay out just exactly which ones are going to go…"
Via Paul Constant, Tim Egan at the NYTimes has a "Tax Face-Off: Romney vs. Me":
… Take a look at Line 7 of the 1040, the one where you report wages, salaries and tips — work. It's from your W2. Romney, of course, had no wages, salaries or tips, which can be taxed at up to 35 percent. His biggest disclosure is Line 13, capital gain — paper profits — where he weighs in with $12,573,249 from 2010. On that, he pays a mere 15 percent.
__
The other place to report money earned by doing actual work is on Schedule C. That's where I put income from books, talks, pamphleteering. And so does Romney. Under the profession category, he doesn't report himself as a businessman or a politician. He's listed as "independent artists, writers or performers" — just like a mime, or Carrot Top.
__
In 2010, Romney's take from this dodge we share, mostly speeches for his part, was $528,871, a mere 2.5 percent of his income. Were he to get serious about being a hardworking indie performer, he might earn millions. But again, even if he were able to take a deduction for that car elevator he's putting into his remodeled manse in California, his earnings from his speaking business would be taxed at up to 35 percent.
__
Better to do no work and pay taxes at a far lower rate on capital gains or a category Romney shares with certain hedge fund managers: compensation from his Bain Capital days also taxed at 15 percent called carried interest…
Messrs. Carrot Top and Gallagher may have to seek legal injunction to protect the good name (such as it might be) of professional prop comics. Willard's more of a ventriloquist, both puppet and puppeteer, skilled at speaking out of both sides of his mouth:
… What are we supposed to make of a candidate who takes certain public positions to court one group of voters — and then tries to reassure an entirely different group of voters by leaking the fact that he doesn't really believe what he said to win votes from the first group? How many other "private" positions does Romney hold that we don't know about?
__
This is an important question because I think the Romney campaign will be engaged in a series of two-steps between now and Election Day. On the one hand, he needs to keep reassuring conservatives that he is really with them on a whole series of issues. But the whole premise that he was the most "electable" Republican rested on the unstated — was this "private," too? — premise that he was the most "moderate" candidate in the field and could thus appeal beyond the conservative hard core. Romney wants the GOP base to think he's a staunch conservative and swing voters to believe he's a closet moderate. That's why I suspect we'll hear more hints about Romney's "private" views on a lot of other matters…
***********
And now that I've put everyone in the right sour mood for Patriots Day, aka Tax Day, what else is on the Monday agenda?