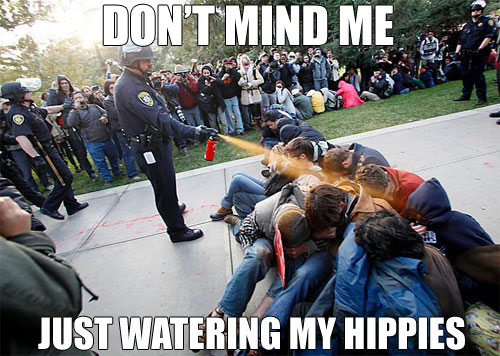 I thought about this guy the other day when I attended a college fair in Rochester and saw that UC Davis had a booth. They were the most distant school by at least a thousand miles, and there's no need to wonder why: parents don't want to send their precious snowflakes someplace where this could happen.
The independent report on the pepper spray incident came out last week, (via) and it's a scathing tale of incompetence pointing directly at Chancellor Linda P.B. Katehi. Even so, I'll bet that she isn't going anywhere. Freddie's a lot closer to the issues with universities than I am, so perhaps there's something more subtle than my simple view that Katehi is a typical administrator and therefore a survivor. In other words, she's an ambitious, smart academic who got bored with her chosen discipline and instead decided that she wanted to make a big salary and taste a little bit of power. So, she learned to mouth the appropriate platitudes about "the sense of community" and "consensus" while at the same time sending the right signals to the cash cows on campus that she wouldn't get in the way of the ethically dubious tactics they use to entice government and industry to funnel money into their programs.
Until those patrons tire of her, Katehi will hold on to power, and this report will have accomplished her aim, which was to delay the day of judgment until a time long after everyone had forgotten her role in one of nastier incidents in the whole Occupy saga.