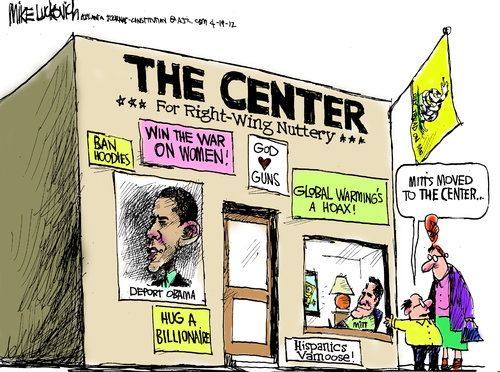 (Mike Luckovich via GoComics.com)
__
Igor Volsky at ThinkProgress reports that Romney will deliver the commencement speech at Liberty University:
Mitt Romney — who at an earlier point in his career had promised to advance the equality of gay and lesbian people — is scheduled to deliver the Commencement address at Jerry Falwell's Liberty University on May 12, an Evangelical Christian college that refuses to recognize people or ideas that don't adhere to its social conservative worldview.
__
The university — founded by the late Rev. Jerry Falwell in 1971 — seeks to impress on its students a "commitment to the Christian life" that "leads people to Jesus Christ as the Lord of the universe and their own personal Savior" and forbids openly gay enrollees. Students are required to abide by a strict Code of Conduct, which prohibits them from engaging in "[n]on-marital sexual relations," drinking, smoking, watching R-rated movies, dancing, cursing or hugging for longer than three seconds. In 2009, the school attracted controversy after it revoked its recognition of a Democratic club, because "[t]he Democratic Party platform is contrary to the mission of Liberty University and to Christian doctrine." The school condemned the party for supporting abortion rights, "same-sex marriage, hate crimes, LGBT rights, and socialism." …
__
Significantly, this isn't the first time Romney has embraced conservative Christian Evangelicals in an effort to endear himself to Republican voters. In 2007, he addressed Regent University, the school founded by televangelist Pat Robertson.
Jerry Falwell's "Moral Majority", of which Liberty U is the training camp/sandlot league, was one of the major early movers in the establishment of the American Taliban. The increasing comity between the "Christian Right" Evangelicals and the most regressive wing of the Catholic Church was never about religion, unless you define religion as "ensuring the continued control of rich old white men over every possible source of power and prosperity". The rest of their "theology", god-talk, was never more than window dressing to distract both the rubes at the bottom of the economic pyramid and the Media Village courtiers near the top.
Paul Constant at The Stranger gets the irony, and the last word:
This isn't a surprise. Romney still needs to shore up the Republican base, and a speech at Liberty University is a must for the Republican presidential nominee. I'm sure that the Romney campaign has a big list of groups they've totally written off, including African-Americans and gays and gay-friendly voters, but they sure don't seem to be trying too hard to expand the tent right now. As for Liberty University: Fuck them. The sad thing is, the bigots up in LU administration are probably patting themselves on the back for being "tolerant" enough to "allow" a Mormon to speak. Romney's their token minority now.