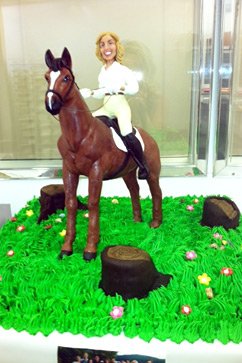 Poor Mrs. Mitt. After 40+ years of back-breaking momming, the woman has earned the right to kick back and take it easy. And she could, too, if it weren't for her husband's compulsive need to cross "Be President!" off his bucket list.
So Mrs. Mitt is forced to endure serial humiliations, one of the worst of which must surely be the obligation to interact socially with a vulgar, embarrassing blowhard like Donald Trump. Last night, Mrs. Mitt was obligated to paste on a smile and ride the elevator to the 66th floor of Trump Tower to join Trump, his wife Melanoma and 400 other crass rich people (the only kind willing to share airspace with Trump) to raise $600,000 for the Mitt campaign at a "birthday party" for Mrs. Mitt. (66th floor + $600,000 – $599,994 = 666!)
And, because even though Trump was born rich, he somehow managed to avoid acquiring the good taste and manners that often make our plutocrats seem less overtly monstrous than they actually are, he exposed poor Mrs. Mitt to maximum tackiness, including a sugary image of herself astride a sugary Austrian Warmblood dancing horse, thus inviting unflattering comparisons between Mrs. Mitt and Marie Antoinette.
The Cake Boss dude, who constructed the monstrosity, chose to surround the horse and rider with stumps. Why? A subtle protest of Trump's desire to clear-cut ancient Scottish trees to build vulgar golf resorts? It's a mystery. And an open thread.