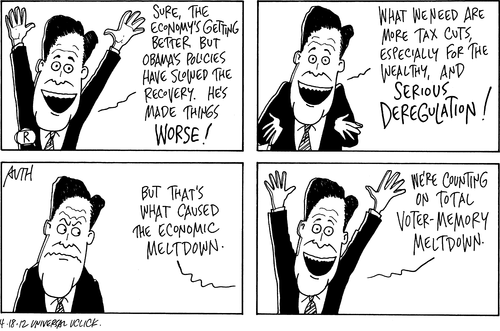 (Tony Auth via GoComics.com)
__
Jennifer Vineyard at NYMag's Daily Intel reports:
At Equality Now's twentieth anniversary dinner last night at the Asia Society, Daily Intel caught up with actress Eliza Dushku to talk Mormonism and Mitt Romney. Romney served as Dushku's bishop when she was growing up, although she doesn't consider herself to be "very Mormon" anymore…

Dushku's history with Romney is a bit complicated. "I mean, he went from being my first crush at six years old — I named my Ken dolls 'Mitt' — and then when I was old enough to hear what was coming out of his mouth, it was over," Dushku recalls. "I'm sure he's a nice guy. I knew him to be a nice person, to those around him. He had five sons that I knew, that my brothers would play with growing up, and they were kind to others. But what they stand for I don't find to be tolerant or just."…
(Click link for more backstory.) While the average Ken doll's head is a highly commodifiable lump of molded vinyl with an empty interior, I don't remember them having the giant (if useless) balls of the Romneybot mk. 2012…
Apart from politics, what's on the agenda for this weekend?