Aside from the fact that he is a misogynist who likes to tweet his disgust for women, Romney's new foreign affairs spokesman has another tiny little problem:
Gov. Mitt Romney stepped on a landmine by appointing Richard Grenell, an out, loud and proud homosexual, to be his spokesman on national security and foreign policy issues. Grenell has for years been an outspoken advocate for homosexual marriage. In fact, word is that he left the Bush administration because President Bush would not formally acknowledge his homosexual partner.

Since, as the saying goes in D.C., personnel is policy, this means Gov. Romney has some 'splaining to do. This clearly is a deliberate and intentional act on his part, since he was well aware of Mr. Grenell's sexual proclivities and knew it would be problematic for social conservatives. It's certainly not possible that there are no other potential spokesmen available, men who are experts in foreign policy and who at the same time honor the institution of natural marriage in their personal lives.

So this has all the appearances of a deliberate poke in the eye to the pro-family community, and a clumsy one at that, coming right on the heels of endorsements from Richard Land of the Southern Baptist Convention, Robert Jeffress of First Baptist Dallas and the National Organization for Marriage, and right after the governor accepted an invitation to deliver the commencement address at Liberty University.
Fischer lets on more than he intends to, here, and lets his bigotry freak flag fly loud and proud. Normally, these guys spew some nonsense about "hating the sin and loving the sinner" and at least try to pretend it's about policy issues. But here, we've got a gay man who will not be addressing same sex marriage or gay issues whatsoever, but working on foreign affairs issues, and for Bryan Fischer and company, the simple fact that he is gay disqualifies him for service.
The difference between these "respectable" bigots and Fred Phelps is that at least Fred Phelps has the balls to carry signs saying what he really thinks: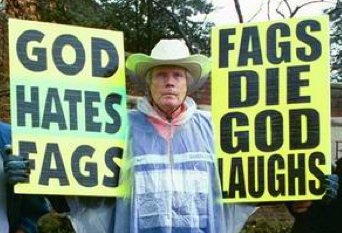 The rest of the evangelical community that Fischer represents doesn't have that kind of courage.