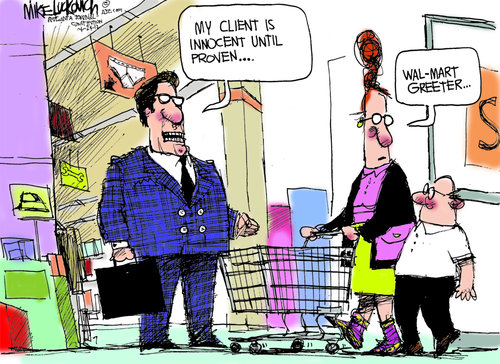 (Mike Luckovich via GoComics.com)
Could not happen to a more deserving bunch of thieves and miscreants:
Wal-Mart Stores Inc. (WMT) is the subject of a U.S. Justice Department criminal investigation into allegations of bribery in its Mexican subsidiary, according to a person familiar with the probe.

The Justice Department is investigating potential criminal charges under the U.S. Foreign Corrupt Practices Act, according to the person familiar with the probe who wasn't authorized to speak publicly about it. Wal-Mart is conducting its own review of allegations that its representatives paid local officials in Mexico to get stores opened faster in the early 2000s…

Wal-Mart de Mexico, which is 69 percent owned by Wal-Mart Stores Inc., fell 12 percent yesterday to 37.89 pesos in Mexico City, the biggest decline since May 4, 1998. The parent company's shares slid 4.7 percent to $59.54 at the close in New York, the biggest drop since Aug. 10….

Settlements involving the corrupt practices act are typically 1 percent to 2 percent of sales, and that would be about $4.5 billion per 1 percentage point of sales for Wal-Mart, Carroll said. FCPA investigations take 2 years to 6 years to settle, he said. The largest such settlement ever was $1.6 billion paid by Siemens AG (SIE) in 2008, he said…

Two top Democrats on congressional panels yesterday moved to start a probe and request a meeting with Wal-Mart executives.

The Times report "raises serious questions about potential violations of United States law" and "about the actions of top company officials in the United States who reportedly tried to disregard substantial evidence of abuse," Representatives Elijah Cummings of Maryland and Henry Waxman of California, wrote in a letter to Duke…
[Via Felix Salmon.]
The Wal-Mart "miracle" has always relied on a three-legged stool of corrupt practice: Pressuring or bribing local politicians into providing regulatory & tax breaks that would allow Wal-Mart to undercut local businesses and shove employee expenses onto the government; forcing Wal-mart suppliers to constantly reduce their costs-per-item, no matter what this did to the quality of the product or the long-term health of the vendor/manufacturer; and keeping its employees underpaid, overworked, and non-unionized. It's not a coincidence that Wal-mart got its start in Arkansas, or that it's always done best in communities — American or overseas — where a handful of rich families have effective control over their local economies / politics. Banana Republicans thrive where the "low information voters" live under social rules not much different than those of a medieval barony, as long as the local peasantry can still consider itself superior to the neighborhood non-whites/immigrants/outcastes. Not hyperbole: Either Wal-Mart "wins", or our democracy does… and, to be honest, Wal-Mart's such a social parasite I doubt it would survive long if it succeeded.