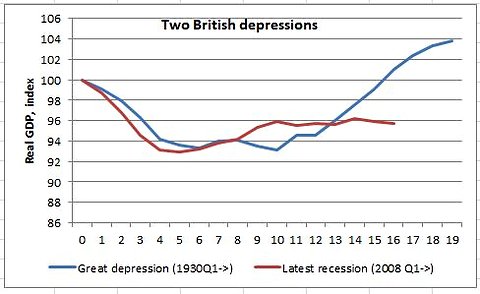 When David Cameron became PM, and announced his austerity plans — buying completely into both the confidence fairy and the invisible bond vigilantes — many were the hosannas, from both sides of the Atlantic. Pundits here urged Obama to "do a Cameron"; Cameron and Osborne were the toast of Very Serious People everywhere.

Now Britain is officially in double-dip recession, and has achieved the remarkable feat of doing worse this time around than it did in the 1930s.
Kthug goes on to point out that with the Brits, these are self inflicted wounds- basically Cameron is tightening the cilice on the thigh of England for past sins of the financial markets. However, I wonder how many trillions of dollars of wealth are being left uncreated, leaving tens of millions mired in poverty, as Europe continues it slow death march to the martial beat of Angela Merkel and Wolfgang Schaeuble's austerity drums?
In other austerity news, this is amusing (in a sick kind of way):
Not long ago, the Dutch were among the hardest of hardline enforcers of budgetary discipline in the euro zone. As the crisis intensified last autumn, the country's prime minister and finance minister argued that states which failed to control their deficits should face external supervision, fines, or even expulsion from the single currency.

That commitment to fiscal rigour abroad has been undermined by domestic economics and politics. The Netherlands has been hard hit by the slowdown: growth went into reverse in the fourth quarter of 2011, and the International Monetary Fund expects the Dutch economy to be the only core euro zone country to endure recession this year. This puts the country at risk of breaching the euro zone's deficit targets, and forced ministers to consider more austerity. But the planned cuts proved too harsh for the fragile Liberal-Christian Democrat coalition – and for Geert Wilders' Freedom Party, on whose support the government relied. Elections now look likely, possibly as early as mid-July.
It also looks like Sarkozy will fall. It should now be obvious to everyone that Krugman has been right all along, and that austerity is the equivalent of bleeding with leeches, except instead of using leaches, you just slit your own throat while telling yourself the math demands it.
*** Update ***
The cunning plan of growing the economy by making sure that nobody but rich people has any money will work! It cannot fail, it can only be failed!
Pretty much.