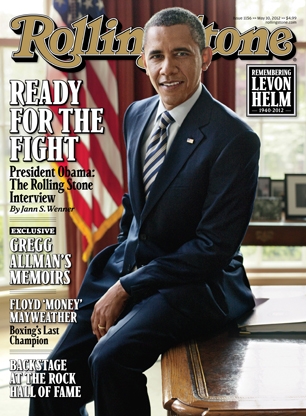 Jann Wenner's new Rolling Stone interview with President Obama is online:
The president was more somber than in our past interviews – and less inclined to depart from the handful of themes he had been concentrating on in recent weeks. He avoided discussing Mitt Romney, even when asked a direct question, and focused primarily on the very real constraints he operates under as president, from the intransigence of Congress to the dilemma of America's anti-drug laws. He also seemed intent on summing up the arguments he'll soon be taking out on the campaign trail, making clear that he plans to run on his remarkable record of accomplishments: extending health insurance to 32 million Americans, staving off a major economic collapse, rescuing the auto industry, reforming student loans, ending discrimination against gay soldiers, pulling U.S. troops out of Iraq, killing Osama bin Laden, and passing one of the largest middle-class tax cuts in history…
One snippet that's probably gonna cause some heartburn on the internets:
Do you read Paul Krugman?
I read all of the New York Times columnists. Krugman's obviously one of the smartest economic reporters out there, but I also read some of the conservative columnists, just to get a sense of where those arguments are going. There are a handful of blogs, Andrew Sullivan's on the Daily Beast being an example, that combine thoughtful analysis with a sampling of lots of essays that are out there. The New Yorker and The Atlantic still do terrific work. Every once in a while, I sneak in a novel or a nonfiction book.