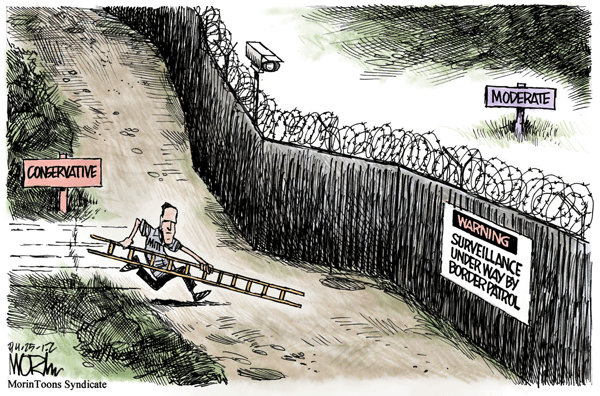 (Jim Morin via GoComics.com)
Big Hollywood, Big Politics, Big Hypocrites: According to NYMag's Joe Coscarelli, the Breitbrats are very, very offended:
Not only did Breitbart.com call President Obama's "slow-jam the news" segment with Jimmy Fallon last night "possibly the worst 'comedy' segment in the history of mankind," the site decreed that it violated a campaign-finance law: "Obama should be ashamed of himself (though, of course, he has no capacity for shame)." The FCC's equal-opportunity rule states that if a broadcaster affords airtime to a candidate, equal time must be granted to "all other such candidates for that office."…

But a recent FCC ruling sets a different precedent that would almost certainly include Late Night: Talk shows — in this case Anderson Cooper's daytime chatfest, Anderson — qualify as bona fide newscasts. Furthermore, in a precedent set by Entertainment Tonight, the FCC noted that its role "is not to decide, by some qualitative analysis, whether one kind of news story is more bona fide than another."
To which, of course, two immediate reactions:
(a) When did the self-described small-government-conservative Breitbrats fall in love with the heavy hand of the socialistic FCC?
(b) After what happened when Michele Bachmann appeared on Jimmy Fallon's show, what deeply offensive & personally hurtful pop song would the Roots use for a Mitt Romney spot?