… but the politically engaged conservatives mostly are. Thomas Edsall, at the NYTimes, on "Finding the Limits of Empathy":
… Ravi Iyer, a post-doctoral researcher at the University of Southern California who analyzes the differences in the moral outlook of conservatives and liberals, has posted an exceptionally interesting collection of data on his "Politics and Moral Psychology Blog." (Iyer's research is reinforced by the work of Philip E. Tetlock at Wharton and Linda J. Skitka of the University of Illinois.)…

Politically engaged liberals and conservatives exhibit strikingly different levels of empathy. The following chart, constructed by Iyer, illustrates this beautifully: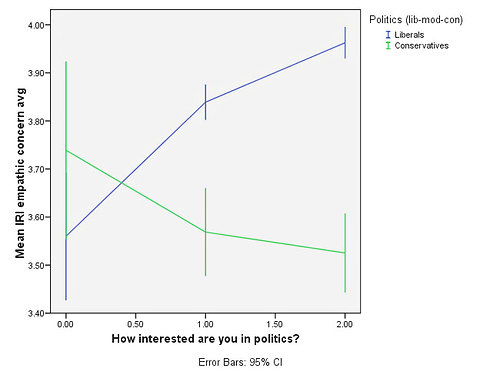 The more interested in politics a conservative is, the lower his (or her) level of empathy. Liberals move in the opposite direction: the more interested in politics they are, the more empathetic. Empathy, in case you're wondering, is measured by responses to 28 statements in the "Davis Interpersonal Reactivity Index," including "I often have tender, concerned feelings for people less fortunate than me," "I sometimes find it difficult to see things from the 'other guy's' point of view," and "Sometimes I don't feel very sorry for other people when they are having problems."

In the 2010 election, 42 percent of voters identified themselves as conservative; 38 percent said they were moderate; and 20 percent said they were liberal. If that division obtains in 2012 and beyond, the proportion of conservative to liberal voters in the electorate should give liberals pause, especially insofar as they expect elected officials to propose and pass legislation the underlying purpose of which is to help those most in need…
I'm a little suspicious of the sudden rush to "prove" that if our political process is irretrievably borked, it's all down to what's broken in our individual brains. But there is a certain logic, if you accept the theory that people mostly get interested in politics — in spending precious time and energy on elections that could otherwise go towards work, family life, getting more use out of that expensive gym membership, or keeping up with the local sports franchise — when they perceive that something is "wrong" with the existing order. For conservatives, that "wrongness" is hardly likely to be an overwhelming sense that Tha Gubmint just isn't doing enough for those people who are… unlike the aggreived conservative.