Political messaging is hard in the details but the overall plan is simple enough that an eighth-grade pep squad could articulate it: tell us why you rock, and why your opponent sucks. Sometimes circumstances dictate that "rox" or "sux" alone have to carry the day, but over the long span of the campaign, you need a mix of both. This latest Obama ad is a good example. Obama's clean energy initiative rocks, Romney's lies and Swiss bank account suck, the end.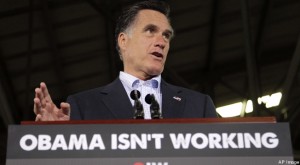 Here's some typical Romney campaign imagery, and at least for this biased and simpleminded observer, the 24/7 "he sucks" is wearing thin, and it's also getting him into trouble. The latest dust-up over the Bin Laden killing is a good example. Some things are just better left untouched by the candidate, and the right response to Obama's Bin Laden celebration would have been to let surrogates handle the sniping and to have Romney highlight what he would be doing differently to make America stronger. But he lacks the "I rock" portion of his campaign, so his "all sux no rox" campaign had to chew up the bait that Obama laid down for him, and after they did, Obama made them look like chumps. (BTW, the often criticized Josh Marshall is right that Obama did the bitch-slapping here and even this Morning Joe regular agrees).
Even the "sux" portion of Romney's program is just hollow reliance on right-wing tropes. The Jimmy Carter example was a good one, because anyone who's over 40 remembers how much that raid hurt Carter. If you remember that, then you know how the Bin Laden raid could have turned to shit, and if it had, we'd have ended up with years of Rove-style messaging about Obama's weakness.
These guys have been living in a Beavis and Butthead world where just saying "Barack Hussein Obama", "Michelle is Fat" or "Just Like Jimmy Carter" gets a high-five from the other idiots in the room, and it's starting to show.